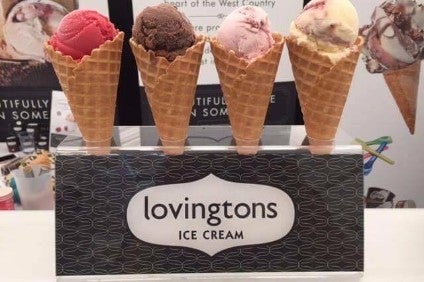 UK ice cream maker Beechdean Group has taken full ownership of local peer Lovingtons Ice Cream, having originally acquired 50% of the business in May.
No financial details have been disclosed.
Buckinghamshire-based Beechdean said it plans to rapidly expand the Lovingtons brand in the West Country.
Somerset-based Lovingtons, founded in 1997, supplies foodservice and scooping sites.
The deal gives Beechdean a West Country stronghold, with the Lovington's Somerset factory joining its other three production sites. It is second deal in five months for Beechdean, which bought Leeds-based Enjays Pancakes in June.
Beechdean, the manufacturer of ice cream brands Beechdean, Loseley, Yorkshire Dales and Granellis, now has a capacity of 30m litres a year. It has a strong presence in the foodservice sector and supplies the likes of The Royal Albert Hall and Ambassador Theatre Group. Retail is also a key focus with a Beechdean Farmhouse rebrand and new ranges such as Decadent and another under a deal with chef Paul Hollywood set to launch.
Andrew Howard, Beechdean's managing director, said: "We have been working closely with Lovingtons and felt it was the right next step for Beechdean's growth, both in brands and production capacities. We are a customer-centric business and this means as a group we have much more to offer our growing client base.
"We are putting substantial investment in both the manufacturing capabilities as well as the sales and marketing side of the business to capitalise on the excellent reputation the business has developed."