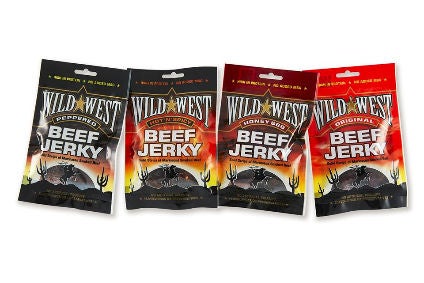 Meatsnacks Group, the UK beef jerky specialist, has diversified its product range with the launch of salmon jerky.
The Milton Keynes-based firm, which has brands that include the UK's most popular beef jerky range, Wild West, has added Speyside Smokehouse salmon jerky to its portfolio, available in three flavours.
Made in the Scottish Highlands, the jerky uses Scottish Atlantic-farmed salmon and follows the same production methods as the company's Wild West jerky line.
To make the salmon range, fresh salmon is trimmed and deboned, prior to being marinated overnight. The marinade is made using ingredients such as soy sauce, apple cider vinegar, black pepper and sea salt. The salmon is then slowly cooked and smoked over beech wood.
The jerky is available in sea salt and black pepper, sweet chilli pepper, and teriyaki versions.
Meatsnacks Group managing director James Newitt said: "We're really excited to be launching Speyside Smokehouse salmon jerky into the retail market. High in omega-3, high protein and low calories, our salmon jerky is a perfect snack at any time of the day without compromising on taste."
The range is available in 30g packs with a recommended retail price of GBP2.50 (US$3.20).
Meatsnacks Group began life as The Jerky Group but changed its name in August 2015 following a merger with biltong specialist Cruga.