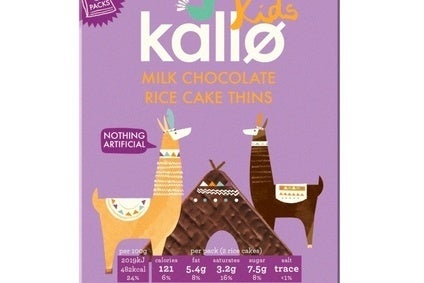 Rice cake maker Kallo is launching a host of products for 2014 including healthy snacks aimed at children.
Starting this summer, the roll out will form part of a drive to raise the profile of the Kallo brand, which is owned by Dutch food group Wessanen.
Marketing director Gill Hesketh said: "2014 is an exciting year for Kallo, with so many innovative NPD launches across the light meal and snacking categories. Kallo's focus is to become the number one rice cake brand through offering wide and varied eating occasions for our customers and we are confident that our innovative launches will achieve this."
The Kallo Kids range includes milk chocolate coated rice cake thins and strawberry yoghurt coated rice cake thins, in five accessible portion packs containing two rice cakes. They are aimed at parents looking to provide their children with a healthy lunch box or after school snack.
Kallo is targeting the breakfast convenience market with the launch of Fruity Muesli & Yoghurt thins, aimed at those looking for a quick breakfast or a snack on the go. They contain only natural ingredients such as wholegrain brown rice, oats and sunflower seeds.
For those looking for a gluten-free option, Kallo is introducing a Quinoa & Seeds multigrain cake, topped with pumpkin, sunflower and sesame seeds.
The firm is also targeting the premium and luxury segment with the introduction of chocolate-topped rice thins, for those looking for an "indulgent treat". The range will include a caramel topped product as well as a dark chocolate and orange rice cake thin with all natural ingredients, including real orange pulp.