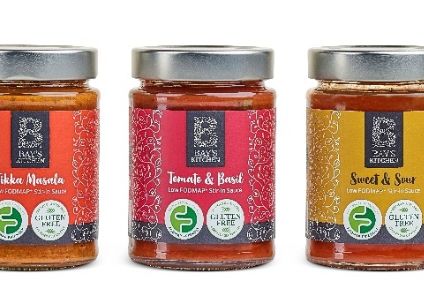 Bay's Kitchen, a supplier of low-FODMAP foods in the UK, has secured investment from the former chairman of major snacks supplier Tangerine Confectionery.
Steven Joseph, who founded Tangerine in the mid-noughties through M&A, has put a "substantial six-figure investment" into Bay's Kitchen, a business set up in 2018 and which has listings at Morrisons and Ocado.
"I've been really impressed with how Bay's Kitchen has been received into the market and the reception it has had with buyers at such an early part of its journey. The ability of Bay to create great tasting products that address a significant market in the UK and overseas gives it a significant opportunity to grow rapidly," Joseph said.
Bay's Kitchen was founded by Hayley 'Bay' Burdett in 2018 after she was diagnosed with irritable bowel syndrome and told by doctors to follow a low-FODMAP diet to help manage her symptoms.
The firm has a range of six stir-in sauces certified to be free from high-FODMAP ingredients such as onion and garlic by FODMAP Friendly, a registered worldwide trademark certifying FODMAP levels in packaged food.
Burdett said: "The last year has been a blur of activity. We've achieved a huge increase in sales, launched six sauces, exhibited at the UKs biggest free-from shows and are now stocked in 136 stores. We're proud of what we've achieved in just 12 months and can now use this investment to keep up momentum with further listings and large-scale samplings through events, partnerships and shows."
FODMAPs are a group of carbohydrates that has been linked to digestive issues, including irritable bowel syndrome. A diet low in FODMAPs is said to ease symptoms.