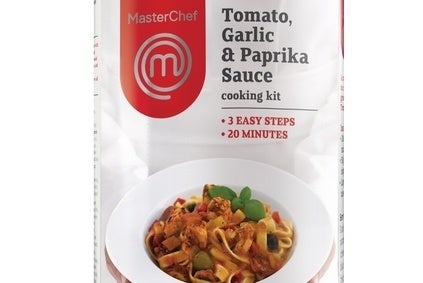 MasterChef Food has announced the launch of its first cooking kits.
The brand, inspired by the MasterChef cooking programme, is rolling out two Italian Cooking kits, complete with a selected range of ingredients and finishing touches that allow consumers to prepare a meal in 20 minutes.
Managing director, Phil Lynas of All About Food said, "The cooking kits have been developed in-line with research that suggests consumers would like to cook from scratch more often, but have limited time during the week. Consumers simply follow the MasterChef Food cooking and presentation directions on pack for an authentic and great tasting meal. Through research and insight we've learnt that consumers are looking for inspiration in the kitchen so we're confident the cooking kits will be a success in grocery retail, helping to make meal-times special, every day."
Under the MasterChef Food brand, a selection of stocks and gravies launched in Tesco at the start of the year. The two cooking kits: Tomato Ragu with Chianti and Tomato, Garlic and Paprika Sauce hit shelves in Asda this June with an RRP of GBP2.99. Further SKUs featuring flavours from around the world are expected to hit shelves later in the year.