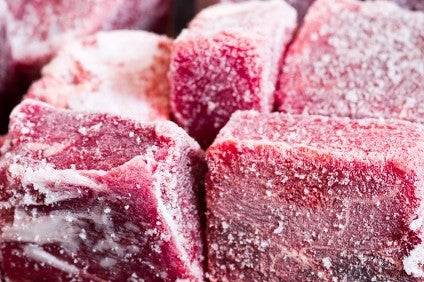 UK meat exporters are continuing to face severe problems at EU customs posts, industry body The British Meat Processors Association (BMPA) has claimed, two weeks after the new Brexit regime came into force.
The BMPA said it is hearing first-hand reports from meat companies and hauliers of "serious cracks in the customs system" and that a "plethora of problems" linked to customs delays are causing meat firms to lose orders and have consignments returned undelivered.
The problems, linked to additional paperwork and new systems following the UK's departure from the EU, can no longer be put down to teething troubles, the BMPA suggested. It said the customs issues are now "causing a serious and sustained loss of trade with our biggest export partner".
It said fresh food exports such as meat are suffering most.
"Alongside seafood, fresh meat is one of the most time critical perishable products. Every hour a lorry load of meat is delayed increases the chance of that order either being reduced in price, cancelled and returned or, in the most severe cases, thrown away and ending up in landfill," the BMPA said.
Nick Allen, the organisation's CEO, said: "One of our members reported on 11 January that he had six lorry loads of product, valued at around GBP300,000 (US$407,083) all waiting for customs clearance into the Republic of Ireland. At the time, one of those loads was about to be returned to the processing company after waiting five days for clearance. Drivers have been reporting long delays as they wait for [UK customs body] HMRC to process the customs documents."
The BMPA is calling for the customs and certification system to be modernised and digitised, calling the existing paper-based system a "relic from the last century and simply not fit for purpose".
Allen said: "It was never designed to cope with the kind of integrated, just-in-time supply chain we have built up over the last 40 years and, if not fixed quickly, it will be the thing that starts to dismantle the European trade British companies have fought so hard to win."
The BMPA is also concerned that worse is to come because export levels have been light.
It said: "For the first two weeks of January most [British] companies deliberately cut the trade they do with the EU and Northern Ireland down to a very low level – on average 20% of normal volumes. This was so they could tentatively test out the new system. But even at these low volumes, there have been catastrophic delays for perishable products.
"The worry is that these companies will need to return to normal volumes from this week but will likely get caught up in a second wave of border chaos caused by a flood of other industries ramping up exports at the same time."
UK Prime Minister Boris Johnson acknowledged last week there had been some "teething problems" so far in the implementation of the new exporting rules but also said that "goods are flowing effectively and in normal volumes".
just-food has asked the UK's Department for International Trade for a response to the BMPA's latest comments.