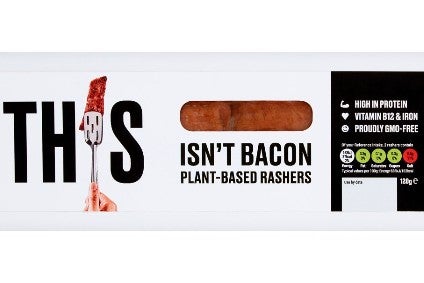 Plant Meat, the UK-based meat-alternatives firm trading as This, is aiming to raise GBP2m (US$2.5m) through crowdfunding to spend on production, marketing and NPD.
Co-founder Andy Shovel said This had started the "pre-registration phase" for the scheme, which will be launched early next month and last for a maximum of 40 days.
"The funding is to help with our manufacturing capability to keep up with the demand we're seeing. It's definitely no small feat to go from zero a year ago to around GBP4m revenue on an annualised basis. That takes work on the operations, supply chain side, and also some investment," Shovel told just-food.
Shovel and fellow co-founder Pete Sharman set up This in 2017 after they had sold the previous business, burger chain Chosen Bun.
This, focusing so far on alternatives to chicken and bacon, has secured listings with UK retailers including The Co-op, Waitrose and, most recently, Tesco.
"The money is for beefing up our marketing funds because we are opening up all these distribution channels with big, big retailers quicker than we expected to," Shovel said. "We need to up our marketing budgets to do so. It also is going to help us with our innovation plans. Another consequence of opening up all these distribution channels, is that we need to leverage them by creating new products."
He added new products from This "might well end up being cross category, not just meat alternatives".
In January, This announced it had raised GBP4.7m from investors including existing backers Five Seasons Ventures and Idinvest Partners, plus new shareholder, the London-based fund Backed. At the time, the company said the funds would also be used for manufacturing and R&D.
In May, Shovel told just-food that round had meant he and Sharman would, together, own over half the business. He refused to be drawn on what size their stakes could be after the crowdfunding round.