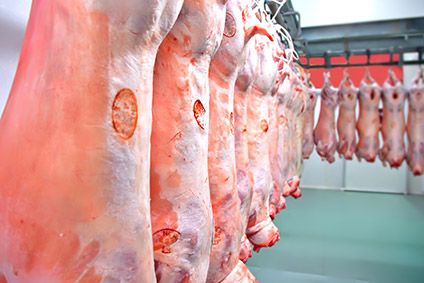 Meat and poultry processors Cranswick and Moy Park are among UK businesses, retailers and trade bodies that have signed up to an initiative to reduce waste and carbon-dioxide emissions.
Meat in a Zero World has been launched under the auspices of the Waste and Resources Action Programme (WRAP), a UK charity based in the town of Banbury in Oxfordshire, and aims to halve the amount of meat that goes to waste each year and help reach the government's target of net zero greenhouse gas emissions (GHG) by 2050.
The project has been developed under the Courtauld Commitment 2025 programme, a voluntary agreement backed by the government to reduce food and drink waste, and facilitated by WRAP.
Meat in a Zero World features 38 of the UK's "largest organisations involved in the production and sale of meat", and also includes Hilton Food Group and 2 Sisters Food Group. And all the major supermarkets – Tesco, Sainsbury's, Asda and Morrisons – are involved, along with a host of other smaller retailers.
Christina Downend, a responsible sourcing manager at Tesco, said in a note sent to just-food: "Tesco recognises climate change as the biggest environmental threat the world faces, and one which could pose particular challenges to a number of our supply chains. As a business, we impact the climate in both our own operations and supply chain, this includes greenhouse gas emissions from our agricultural supply chain. Through this commitment we are working with our suppliers to collectively address and reduce emissions."
WRAP estimates 380,000 tonnes of meat intended for human consumption goes to waste in the UK each year, which equates to more than four million tonnes of CO2 emissions.
"A dedicated Meat Sector Working Group was convened by WRAP under Courtauld 2025 that brought together key stakeholders to identify the areas of biggest impact, and opportunities to overcome barriers and avoid just moving problems along the supply chain," the UK charity said in a statement.
WRAP director Peter Maddox said: "There has never been a more critical time for action in our food system, and the current Covid-19 situation further illustrates this. I am delighted that despite the incredible pressure the sector is under keeping the nation fed, organisations remain committed to the ambitious sustainability goals laid out in Meat in a Net Zero world.
"It is key that the focus is on every link in the supply chain from production, processing and sale, through to the customer – whether they are eating in or outside of the home. I'm confident that Meat in a Net Zero world will have a significant impact towards achieving our national and global targets and believe this has the potential to become a blueprint that other nations will emulate."
A number of UK trade bodies have also signed up to the initiative such as the British Meat Processors Association (BMPA), the British Poultry Council, the British Retail Consortium and the National Farmers Union, amongst others.
Anna Proffitt, a policy technical manager at the BMPA, added: "Increasing efficiency and reducing waste along the meat-supply chain is of paramount importance to the sustainability of the sector. We fully support WRAP in bringing the meat-supply chain together to undertake such important work, and are pleased that many of our members are signatories and active participants of Meat in a Net Zero world. We look forward to working closely with WRAP and members in driving the common objectives forwards."
WRAP said an important step for Meat in a Zero World "is to agree and adopt a consistent approach for measuring GHG emissions, and common metrics that can be used within each sector – beef, sheep, pigs and poultry – which will be worked out through the Meat Sector Working Group, in combination with other industry forums".
The charity said it will ensure participating companies are "held to account" by publicly reporting their progress on the programme's key aims.
just-food has contacted the UK meat companies Cranswick, Moy Park, Hilton and 2 Sisters for their comments, and also the so-called 'Big Four' supermarkets.
Leah Riley Brown, representing the British Retail Consortium as sustainability policy advisor, said: "Retailers recognise the key part they have in tackling climate change and the leverage they can use to help reduce the environmental impact of the materials and manufacturing processes in our everyday products. Addressing food waste, particularly from meat production, is crucial in reducing emissions throughout the supply chain.
"From farmer to factories, we know it's forward-thinking ambitions that can help influence climate action when it comes to protecting the planet. Above all, it's crucial that in a world where retail touches so many, we make a real positive difference."