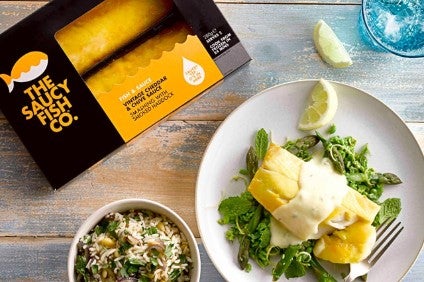 Hilton Food Group, the UK meatpacking company which supplies major retailers, has made a lateral acquisition by buying seafood business Icelandic Food Group, which trades as Seachill, for GBP80.8m (US$106.3m).
The widely anticipated deal – with Seachill's parent Icelandic Group – was announced to the London Stock Exchange by Hilton this morning (18 October).
Seachill is a UK chilled fish processor which supplies branded and private-label seafood products to the UK retail sector. Its portfolio includes The Saucy Fish Co. brand.
Hilton said it plans to raise GBP55.9m by way of a share placing to part-fund the deal. The remainder will be funded by a new debt package comprising a new banking facility worth GBP34m.
It described the acquisition as "strategically and financially compelling" – providing it with an attractive growth opportunity and entry into the processing and supply of fish in the UK.
It said existing customers see opportunities in adjacent categories, such as fish, both in the UK and internationally and the acquisition broadens its offering to its UK and overseas customers.
Seachill, based in Grimsby, will become a stand-alone division of Hilton following completion, with the existing Seachill management team remaining in place. Simon Smith, the current Seachill chief executive officer, will continue to lead the business as a divisional head of Hilton.
Huntingdon-based Hilton said the deal is expected to be earnings enhancing in the first full year.
Robert Watson, chief executive of Hilton, said: "The processing and supplying of fish and seafood into the UK is an attractive and growing market and one where we see considerable opportunities to build Hilton's business.
"Our initial discussions with key customers support this view and we look forward to broadening our offering to both our UK and overseas customers alongside our existing meat business."
Herdís Dröfn Fjeldsted, chair of the board of Icelandic Group, said: "This agreement to sell the business comes after the completion of a very successful re-organisation of our UK businesses under the current management team into a single business known as Seachill, which has given a scale that has enabled the growth of stronger and more successful strategic relationships with customers and suppliers.
"It is clear that Hilton is very well positioned to deliver further success for the business."
Seachill CEO Smith said: "There is a very strong strategic fit between the businesses, and I believe the transaction will be welcomed by all stakeholders.
"Under the ownership of Hilton we will be able to invest further in our facilities and improve our organisational capability to serve our customers better. This is great news for the ongoing success of the business."
The transaction is expected to complete on or around 7 November.
It first came to light that Hilton was in talks to buy Seachill back in August.
just-food analysis: Seachill seen as good catch for UK meatpacker Hilton