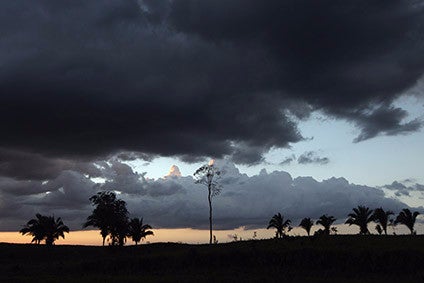 UK meat processors have joined forces with major supermarket chains and industry associations to urge Brazilian politicians to reject a bill that could potentially accelerate deforestation in the Amazon rainforest.
Protein manufacturers such as Hilton Food Group and Cranswick have warned that if the law is passed they will reconsider using commodities sourced from Brazil.
They are joined by meatpackers Moy Park and Pilgrim's UK, alongside food group Winterbotham Darby, supermarket chains Asda, Tesco, Sainsbury's and Morrisons, and industry associations including the British Retail Consortium. The group comprises 40 organisations, which are predominantly but not exclusively UK-based signatories to an open letter urging Brazil to think again.
The letter, published today (5 May), is asking Brazil's legislature to reject a bill which could legalise the private occupation of public land.
Brazilian president Jair Bolsonaro's government has been accused of putting economic expansion ahead of protecting the rainforest. Its current proposals are a second attempt to override existing protections and land designations enshrined in Brazilian legislation.
The open letter said: "Over the past year, we have seen a series of circumstances result in extremely high levels of forest fires and deforestation in Brazil. At the same time, we have noted that the targets to reduce these levels, as well as the enforcement budgets available to deliver them, are increasingly inadequate. It is therefore extremely concerning to see that the same measure we responded to last year is being put forward again."
It added: "We would like to reiterate that we consider the Amazon as a vital part of the earth system that's essential to the security of our planet, as well as being a critical part of a prosperous future for Brazilians and all of society.
"The existing protections and land designations enshrined in Brazilian legislation have been instrumental in our organisations having trust that our products, services, investments and business relationships in Brazil are aligned with the commitments we hold as environmentally and socially responsible enterprises, and that our customers and stakeholders expect of us."
The letter states that the "door remains open" to work with Brazilian "partners" on supporting the development of sustainable land management and agriculture. But it warns "if this or other measures that undermine these existing protections become law, we will have no choice but to reconsider our support and use of the Brazilian agricultural commodity supply chain".
just-food has asked the Brazilian government for a response to the letter, outside of Brazilian office hours.