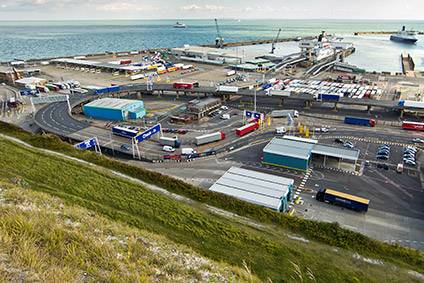 A group of UK MPs is concerned the Department for Transport is not prepared for the prospect of "major" disruption at the country's ports should Britain come out of the Brexit negotiations with no deal.
The House of Commons Public Accounts Committee (PAC) warned today (28 November) there is a "lack of detailed information provided to businesses" to help them prepare for the worst-case scenario of a so-called no-deal Brexit when the UK officially leaves the European Union on 29 March.
"The secrecy surrounding discussions through the use of non-disclosure agreements is hampering businesses' ability to plan," the PAC said. "There is a real prospect of major disruption at our ports."
Speculation has mounted the UK government plans to turn the south-eastern county of Kent, home to the Port of Dover, into a giant lorry park to cope with potential delays at the port, an exercise initially dubbed as Operation Stack.
But it has now been renamed Project Brock, which Kent County Council reportedly says stands for 'Brexit Operations Across Kent'.
"The slow progress and poor communication around work to avoid this through schemes such as Project Brock concerns us," the PAC said.
The committee claims the Department for Transport (DfT) plans to spend as much as GBP35m (US$44.7m) this year on Project Brock to manage traffic and deal with the potential queues of lorries at Dover should a no-deal Brexit materialise. However, the body said the DfT has yet to carry out any test of the system and its "engagement with businesses has been poor."
Meg Hillier, an MP for the opposition Labour Party who is chair of the PAC, said: "The future of road, rail, maritime and air access to Europe after Brexit remains unclear, and the Department for Transport has a critical role in ensuring the UK is prepared. With so little time remaining, there is still much to do. The risks associated with a no-deal are severe, yet plans for avoiding disruption around major ports, in particular, worryingly under-developed."
Hillier described the DfT's secrecy around its preparations for Brexit and the lack of assurances on its progress in planning as a "potentially toxic combination".
"We acknowledge the difficult situation for the Department in having to prepare for all Brexit scenarios," Hillier said. "But it must be open about the challenges it faces and work with businesses and stakeholders to help them get ready for whatever the future brings."