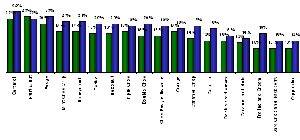 Nestlé has announced plans to expand its Kit Kat brand in the UK with the launch of Kit Kat Chunky Caramel.
The move will be accompanied by a GBP7m (US$11.5m) campaign, including TV and outdoor advertising, digital, sampling and PR. The campaign targets a 16- to 34-year-old audience.
"The consumer facing media campaign plus impactful in-store POS kits are set to drive extensive trial," Graham Walker, Nestlé UK trade communications manager, said.
Sales of Kit Kat increased by 17% last year, with Kit Kat Chunky sales rising 34%.
A spokesperson for the company told just-food that by launching a caramel variety, the company hopes to cash in on the higher purchase intent for caramel products.
According to data compiled by Omnibus, caramel has the highest purchase intent of all flavours in the individual bar category (see chart).