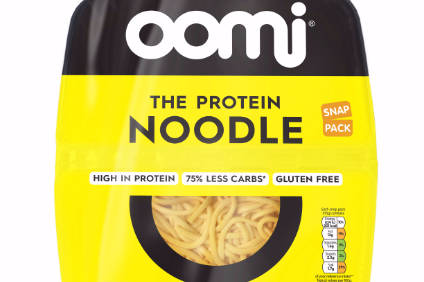 UK food start-up Oomi is to launch its namesake noodles brand into the country's Tesco stores in January.
The listing is second for the company after the product was rolled out on UK online retailer Ocado at the end of September.
Oomi said it is aiming to capture a slice of the UK's growing "health and convenience" market with its "gluten-free high-protein noodles". Each snap-pack of the product contains two "ready-to-eat individual portions".
The noodles, Oomi's first and only product to date, follows two years of development. The brand is backed by a joint venture between UK food manufacturer Winterbotham Darby and Spanish production partner Angulas Aguinaga "which has a rich history of seafood production", the spokesperson said.
"We've drawn on the expertise of both sides to innovate a product using patented technology that meets the growing demands for more protein, fewer carbs and greater availability of gluten free foods," the spokesperson said. "We are a small team. Each of us has a background in the food industry with experience working across categories and brands in chilled food."
The idea for Oomi stemmed from "the clear emergence of a number of key trends – more protein, less carbs, gluten-free", the spokesperson said. "The noodle market is in good growth, but there has been no real innovation to meet all of these trends with a genuinely tasty and nutritious product."
"The UK is really advanced in terms of its food offering, in particular where health and convenience are concerned," the spokesperson said. "Ocado is a great launch pad that allows us to sample our target audience and gather feedback through online reviews. It is just the first step anywhere we see a noodle, we want to see an Oomi noodle. We are particularly targeting supermarkets, restaurants and gyms."
"The main ingredient of Oomi noodles is MSC-certified sustainable white fish fillet, including Alaskan pollock, Pacific whiting and Hoki," the spokesperson said. "The ingredients are mixed, shaped into noodles, cooked and cooled.
According to Oomi, its noodles contain "75% fewer carbs than regular egg noodles and gluten free. "Regular egg noodles have around 26g of carbs per 100g compared to Oomi, which have 6.1g/100g," the spokesperson said. In terms of protein, "regular egg noodles have around 4.4g/100g, compared to Oomi's 11g/100g and regular egg noodles contain around 160kcal/100g compared to Oomi's 171kcal/100g".
"The origin of the Oomi name suggests tasty ('oo') and the double 'oo' in noodle plus the Asian heritage, with 'umi' meaning 'of the sea' in Japanese," the spokesperson said.
Asked about the potential of the business, the spokesperson said: "We're six weeks into trading so it's early days. We have ambitious plans to grow the business." The launch into Ocado was the first listing. As a small team, it's fundamental that we focus on the UK market and developing over here before expanding overseas as the opportunities are abundant. However, we know there is lots of interest for Oomi in other markets so it's definitely on the agenda for year two."