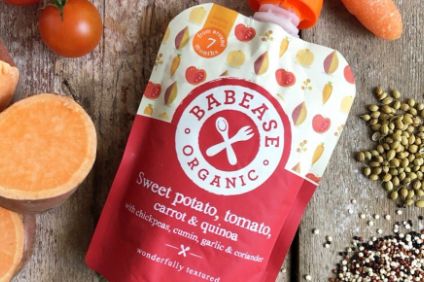 London-based organic baby food business Babease has secured GBP1m (US$1.3m) in funding from Bibby Financial Services (BFS).
Babease said it will use the money to fund the growth of the business – including expanding its range and production capability – following an "extensive period of investment" in product development.
Established in 2016 by chef Tom Redwood, Babease uses organic vegetables to create food for young children and babies from its factory in south Wales.
Babease's products are sold by major retailers, including UK big four supermarket Tesco, and online via Amazon and Ocado.
The company approached BFS after raising funding to acquire Brecon Foods in 2016. Since then, Babease has focused its expenditure on research and development.
Redwood said: "Working with the corporate team at BFS has allowed us to reach the next stage of our business development. As a business specialising in baby food, it was very important to us to spend time and resources on developing the very best products.
"We are excited to continue growing our business with the support of BFS, which will help realise our objectives to become the UK's favourite baby food brand, working with farmers we know and trust and producing products in our own factory.
"We needed to seek a funder that would enable us to expand our range and production to meet the demand for our new products on the High Street."
Dan Burton, head of corporate sales – north, at BFS said: "Tom and his team are very passionate about their business and products and have shown a real ability to develop high quality produce that is generating attention from major retailers.
"In two years the business has grown quickly – from developing a new product range, marketing and establishing production facilities to delivering orders.
"The funding we have provided Babease will enable them to meet demand for a high-quality product."