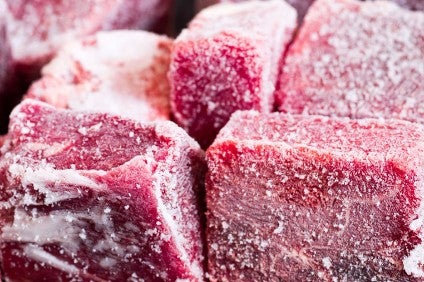 Imports into the UK of beef, lamb, pork, poultry, and some dairy imports would be subject to tariffs in the event of a no-deal Brexit, the country's government has announced.
While 87% of imports would be tariff-free, tariffs would be maintained on certain foods to "support farmers and producers who have historically been protected through high EU tariffs".
The UK's temporary import tariffs will not apply to goods crossing from Ireland into Northern Ireland.
The move follows the vote in the House of Commons last night (12 March) in which UK Prime Minister Theresa May's Withdrawal Bill was defeated by 149 votes. With 16 days to go before the UK is scheduled to leave the EU, a no-deal Brexit – which in part means no trade deal between the UK and the bloc – is now a real possibility.
If that were to happen, the UK would default to World Trade Organization (WTO) trading rules. The UK, as a WTO member, would have to present a 'schedule' of tariffs which would then have to be the basis of all future trade deals.
The UK government said its temporary tariff regime for a no-deal scenario is designed to "minimise costs to business and consumers while protecting vulnerable industries".
It said the regime is temporary and insisted it would closely monitor the effects of these tariffs on the UK economy. The regime would apply for up to 12 months while a full consultation and review on a permanent approach to tariffs is undertaken.
Tariffs would still apply to 13% of goods imported into the UK. The Government said there would be a "mixture of tariffs and quotas" on beef, lamb, pork, poultry and some dairy products.
These imports would be subject to tariffs as a percentage of the EU's "most favoured nation" level – a World Trade Organization measure.
For beef, for example, duties would be levied at a rate of 53% of the "relevant EU" most-favoured nation rate.
For "cheddar-like" cheese, it would be 13% of the relevant EU rate and for butter it would be 32%.
Trade policy minister George Hollingbery said: "If we leave without a deal, we will set the majority of our import tariffs to zero, whilst maintaining tariffs for the most sensitive industries.
"This balanced approach will help to support British jobs and avoid potential price spikes that would hit the poorest households the hardest.
"It represents a modest liberalisation of tariffs and we will be monitoring the economy closely, as well as consulting with businesses, to decide what our tariffs should be after this transitional period."
If the UK leaves the EU without a deal, the temporary tariff rates would be implemented from 11pm on 29 March.
The UK's National Farmers' Union said it was pleased the Government had released its planned no-deal tariffs but was concerned about the impact on sectors not covered by the proposed regime.
"While we are relieved that we are finally able to see the tariffs that will be applied on imported food in a 'no-deal' scenario, it is appalling that we only now have this opportunity to do so – a fortnight before they could come into effect. Farmers and food businesses have no time to prepare for the implications, which will be exacerbated by the fact that we will face tariffs on our own exports on food into the EU and other countries with whom we currently enjoy free trade arrangements," Minette Batters, the president of the NFU, said.
"Although we are pleased to see that the Government has listened to our concerns and elected to treat many agricultural sectors sensitively, which may support farmers who are already facing disastrous disruption from no-deal, it is enormously worrying that some sectors will not have this protection – noticeably eggs, cereals, fruit and vegetables."