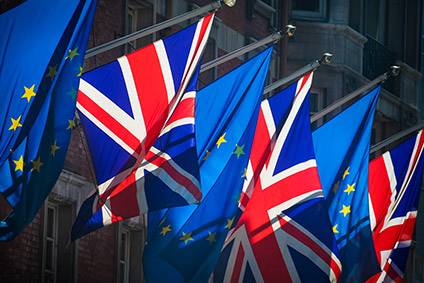 The UK House of Commons Committee on Exiting the EU has warned the food and drink industry, along with retail and manufacturing, would be among the sectors hardest hit in the event of a 'no-deal' Brexit.
The Committee, chaired by Labour MP Hilary Benn, said in its latest report such a scenario would lead to "severe disruption, pose a fundamental risk to the competitiveness of key sectors of the UK's economy, and put many jobs and livelihoods at risk". And the findings were backed by the Food and Drink Federation (FDF), which said a no-deal outcome would be "disastrous".
The warning comes amid rising speculation Boris Johnson, if he is elected UK Prime Minister ahead of Jeremy Hunt, will force through a no-deal without the consent of Parliament. The UK is set to leave the EU on 31 October after failing to make an exit from the trading bloc under the original timetable last March. Yesterday, MPs in the House of Commons backed a move to block any attempt by a future government to prorogue parliament to ensure a no-deal Brexit.
However, the Committee said a no deal "would be the most economically damaging outcome for the UK", with the North East of the country and the West Midlands most likely to be the worst hit.
And further, leaving the EU without a deal would put Article 24 of the GATT trade agreement at jeopardy in terms of maintaining existing free-trade arrangements.
Benn said: "We heard from representatives of important sectors of the UK economy which are all great British success stories. Every single one warned us of the damaging consequences faced by their members in the event of a no-deal Brexit. A no-deal Brexit, with no GATT XXIV agreement, would be at best a foolhardy gamble and at worst, lead to severe disruption, and it is neither desirable nor sustainable as an end state for our economic relations with the EU.
"This clear evidence reinforces our previous conclusion that a 'managed no deal' cannot constitute the policy of any responsible Government."
Tim Rycroft, chief operating officer for the FDF, pointed to a report from the UK Trade Policy Observatory that found a no-deal Brexit would "destroy" GBP18.5bn (US$23.1bn) of food and drink production, "with grave consequences for UK consumers".
He continued: "Within weeks it is likely that shoppers would notice significant and adverse changes to the products available and random, selective shortages. Limited shelf life products would face the most immediate risk.

"The run up to 31 October 2019 is particularly stark. Food and drink manufacturers will not be able to secure additional frozen and chilled warehousing space or logistics capacity for stockpiling, as the required space is already booked for the peak Christmas production period. Manufacturers will therefore have no spare production capacity or ability to store ingredients and finished products. UK food imports will climb from autumn onwards as fresh food stocks decline, so any 'no deal' disruption will have a major impact on availability."