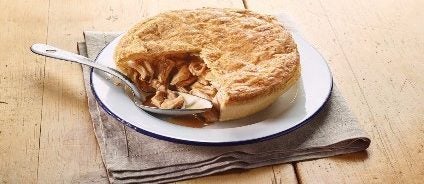 UK firm Pukka Pies is attempting to move part of its product range upmarket with the launch of the Posher Pukka range.
The company described the products as "premium", saying "our best quality, best-tasting pies" were based on "unique pastry recipes".
They are being retailed at a price 47.9% higher than its existing pies.
The Leicestershire-based company's move is part of a round of investment totalling GBP8m (US$10.3m), which kicked off earlier in the year with its 'Everything's Pukka' campaign.
The new launch coincides with the arrival of a new CEO in the shape of former 2 Sisters commercial director Deborah Ewan. The new chief executive was not involved in the thinking behind the launch but a spokesperson said she would now be "fully driving the company's vision and defining the strategy for driving sales and growing the pie category".

She said: "As the branded leader within the chilled pie category we felt that we were in a strong position to develop an accessible, premium pie offering. Following in-depth research, we noticed a growing number of consumers who were demanding a more indulgent yet affordable pie eating experience, which currently was not being fulfilled by brands on supermarket shelves.

"We are confident that the new Posher Pukka range will meet this demand and will both trade up existing consumers as well as introduce new customers into the category."

Pukka Pies' new range of pies include chicken, leek and pancetta; and steak and porter ale. The company has also launched a veggie tikka masala pie.

The Posher Pukka range will retail at GBP2.50, GBP0.81 more than the RRP of its existing pies. It will be launched in the coming weeks.
Pukka Pies was founded by the Storer family in 1963. It employs around 350 people in the the Leicestershire area.