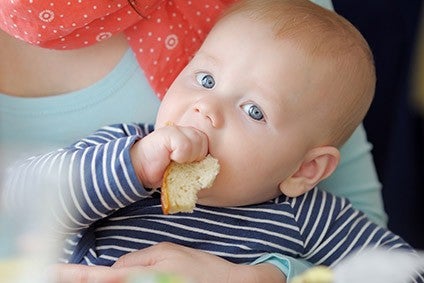 Folic acid will be added to non-wholemeal wheat flour across the UK, giving pregnant mothers extra protection through foods consumed such as bread against life-threatening spinal and brain conditions in babies.
Due to be introduced by the Department of Health and Social Care, the measure aims to prevent 200 so-called neural tube defects each year – birth defects of the spine and brain that usually occur during the first month of pregnancy. That would amount to around 20% of the annual total across the four UK nations, the Government said.
A review of bread and flour regulations will be conducted by the Department for Environment, Food and Rural Affairs (Defra), the Department of Health and Social Care, the Food Standards Agency and Food Standards Scotland. The implementation of the "mandatory fortification of flour with folic acid" will be included in the review.
The Government said the costs of "fortification to industry are expected to be minimal".
UK Prime Minister Boris Johnson said: "Few things are as important as a baby's health – and folic acid-fortified flour is a quick, simple win to enhance their development. This will give extra peace of mind to parents and families, as well as helping boost the health of adults across the country."
Folic acid will need to be added to the labelling of all foods made with non-wholemeal flour. Wholemeal flour and gluten-free foods are not subject to the mandatory measure and are not currently part of the review process, the Government said, adding that some wholemeal and gluten-free foods are "already voluntarily fortified with folic acid" in the UK.
Health and Social Care Secretary Sajid Javid said: "We are committed to giving more children a healthy start in life. With the safe and taste-free folic acid baked into the national diet, hundreds more babies will be born healthy each year.
"Focusing on preventing life-threatening health issues such as spina bifida, will ensure fewer people will require hospital treatment, and more individuals and families are able to live healthier lives."
In 2018, the then-public health minister Steve Brine announced the Government would start consultations the following year on introducing mandatory requirements for folic acid in flours based on evidence, practicality and safety.
At the time, evidence from the Scientific Advisory Committee of Nutrition suggested expectant mothers could take folic acid during pregnancy to significantly reduce the risk of foetal abnormalities such as spina bifida and anencephaly, a condition where the majority of the brain never develops.
Around 700 to 900 pregnancies are affected by neural tube defects each year in the UK, the Government said then.
Alex Waugh, the director of trade association UK Flour Millers, said in the latest Government statement: "Flour, whether white brown or wholemeal, is an ingredient in many foodstuffs and supplies a big proportion of our daily fibre and protein along with essential nutrients such as calcium, iron and B vitamins.
"If it is decided that folic acid should be added to flour for public health reasons, flour millers will do all they can to overcome any practical challenges to make it happen."
Just Food approached UK bread majors Hovis and Kingsmill for comment.