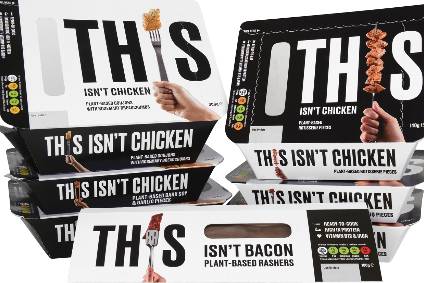 This, the fledgling UK plant-based meat business, is looking to boost manufacturing and R&D with a new round of funding.
The London firm, which launched last summer, has raised GBP4.7m (US$5.2m), including existing backers Five Seasons Ventures and Idinvest Partners, plus new investor, the London-based fund Backed.
This, set up by co-founders and majority shareholders Andy Shovel and Pete Sharman, has UK retail listings at stockists including Waitrose and Holland & Barrett. The company says its "annualised revenue" stands at around GBP3m.
"We've been able to leverage our strong first few months to obtain this fantastic investment from strong partners. It allows us to massively boost our manufacturing capacity and crucially – to create a formidable innovation engine within the company, by establishing an internal R&D centre," Shovel said.
This' production is based in Europe. The company is planning to buy a manufacturing line to triple its annual production volume. The firm is looking to open the R&D site in London in the next three months and is scouting out locations.
Some 220 Waitrose stores stock This' products, which include alternatives to bacon and chicken. The company told just-food: "Over the next few months we're planning to launch into another national supermarket."
It added: "We're currently testing international distribution in Italy on a minor scale. We will be fully focused on export in about 12 months for both foodservice and retail."