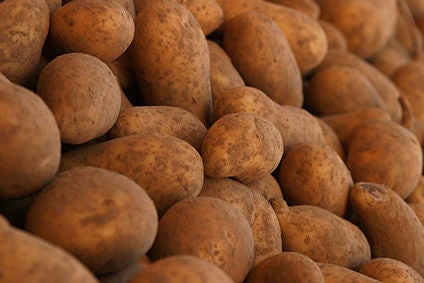 UK potato plantings are down 3% amid the extreme weather conditions the country is experiencing.
But the country's Agriculture and Horticulture Development Board (AHDB) is playing down fears of a shortage of spuds on supermarket shelves.
The AHDB estimates the total area in Great Britain planted with potatoes is 119,000 hectares, a fall of 3% on the previous year. This would represent the third-lowest planted area on record.
The news comes in a challenging season for potato growers, with an agricultural drought likely to affect yields.
But AHDB's sector strategy director for potatoes, Dr. Rob Clayton, said a resilient industry will maintain the supply of the crop.
He said: "This has been a tough and stressful season for growers, we do not underestimate that. However, we welcome news that supply chains are working closer than ever before, and that continual improvements are leading to reduced food waste at all points from the grower to the consumer."
On Wednesday (1 August), the UK's Environment Agency announced further support for drought-hit farmers.
The ultimate size of the potato crop, and how the market firms in response, will not be known until harvest.
Dr. Clayton added: "The season started with sub-zero temperatures brought by 'the Beast from the East', followed by a wet spring that delayed planting. Since then, we've seen one of the driest combined June and July periods on record, so most growers are reporting that yields will be down.
"Farmers have been working round the clock to minimise this, with teams working overnight so that any water used does not evaporate in the hot sun. There is still some growing season to go, so it is impossible to accurately predict how far down they will be."