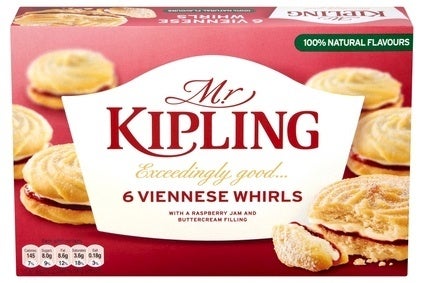 Premier Foods plc booked a drop in first-half underlying sales this morning (22 July) but higher trading profit enabled the group to reaffirm its expectations for that metric.
The UK food maker said trading profit increased 2.1% in the six months to 30 June, climbing to GBP48.1m (US$82.1m). The company has sold control of a number of under-performing units, including the formation of a JV with Gores Group to run its Hovis bread business. When adjusted for the sale of these lower-margin units, trading profit from continuing operations edged up just 0.1%, Premier revealed.
CEO Gavin Darby stressed the firm was able to report this increase despite a 6.1% drop in underlying sales.
As Premier has shifted its sales mix to focus on brands that offer higher returns, it has increased its focus on brands including Ambrosia, Oxo and Mr Kipling. However, the firm's so-called power brand sales were down 4.1% in the period.
"We are adapting quickly to the changing external environment through retaining a tight control of costs and margins and have a strong programme of consumer marketing and new product introductions planned for the second half of the year.
"Assuming normal weather patterns, we expect an improved second half branded sales performance and our trading profit expectations for the year remain unchanged," Darby said.
Premier also posted an operating loss of GBP10.1m amid charges including a jump in impairment costs. It booked a net loss of GBP51.9m, against GBP9.3m a year earlier, thanks to an increase in finance costs.