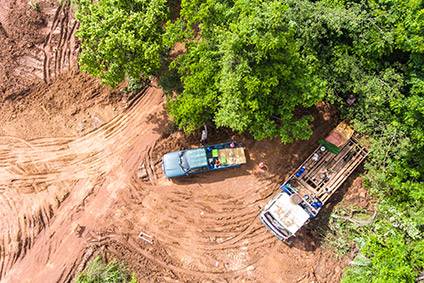 The UK government is proposing new laws that would penalise manufacturers and their suppliers from using products grown on land "deforested illegally" and is putting the plans out for consultation.
Companies operating in the UK would be required to carry out due diligence on suppliers and to publish details of where commodities such as cocoa, soy and palm oil are sourced to show they were "produced in line with local laws protecting forests and other natural ecosystems", according to a statement from the UK's Department for Environment, Food and Rural Affairs (Defra).
However, Defra said the proposals would apply to "larger businesses", which would be subject to fines – not yet determined – if they did not comply with the laws.
"This approach is designed to work in tandem with the existing efforts of governments, communities and business in producer countries to enforce national laws, benefiting law-abiding producers and companies," the statement read.
International Environment Minister Lord Goldsmith, said: "There is a hugely important connection between the products we buy and their wider environmental footprint, which is why the Government is consulting today on new measures.
"There has been a lot of progress already to make the UK's supply chains more sustainable, but more needs to be done. We will continue to work closely with farmers, business and governments around the world to ensure that we can protect our vital forests and support livelihoods as we build back greener from coronavirus."
But environmental organisation Greenpeace has criticised the proposals as being "seriously flawed", and has singled out supermarket Tesco, urging the retailer to cut the amount of meat and dairy products sold through the chain.
Elena Polisano, forests campaigner at Greenpeace UK, said: "We will never solve deforestation for commodities like animal feed soya and palm oil without tackling demand. Companies like Tesco, who sell more meat and dairy and use more soya for animal feed than any other UK retailer, know what they need to do to reduce their deforestation footprint.
"They must reduce the amount of meat and dairy they sell and drop forest destroyers from their supply chain immediately.
"Proactively, the UK government and industry needs to support a just transition at home and in forest regions to food systems that work with nature, including the restoration of natural ecosystems.
"There is also nothing in the proposals to address the fact that some commodity producers may have one 'sustainable' line but continue to destroy forests elsewhere. This just shifts the problem into someone else's backyard."
Polisano used Brazil as a case in point: "We've all seen the way President Bolsonaro has championed the expansion of agriculture in Brazil at the expense of the Amazon rainforest," she said.
Tesco came out in August to press the Government to ensure all food sold in the UK is deforestation-free. At the time, Tesco said its was calling for a "co-ordinated UK policy on food that will drive the transformational changes needed to ensure our food systems deliver affordable, healthy, sustainable food".
And further: "Protecting the Amazon is a critical part of this and can only be achieved through a broad coalition of government, industry, experts and NGOs," Tesco noted.
Consultations over the government proposals will run for six weeks and will "seek views from UK and international stakeholders, and will take into consideration potential impacts on businesses and other interests", Defra said.