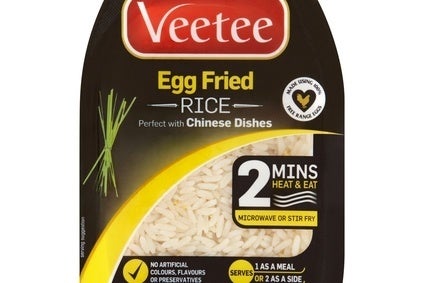 UK rice manufacturer Veetee has launched two new products as part of an NPD drive.
Veetee Egg Fried Rice which has secured listings in 334 Tesco Stores uses only free range British eggs and aims to extend Veetee's brand presence in Oriental cuisine.
The firm is also launching a wholegrain brown microwaveable rice dish in response to consumer demand for healthy wholegrain foods.
With an increasing shift toward convenience eating, Veetee is repositioning its microwaveable range with a renewed emphasis on everyday eating occasions. The range is undergoing a packaging design refresh to enhance the brand's category association through "increased visibility" of the 'heat and eat in 2 minutes' messaging.
Vikas Magoon, CEO of Veetee Foods Ltd says "2014 is an exciting year for Veetee. We have aggressive plans for raising brand awareness and increasing penetration through product reach and appeal. We're confident the new brand positioning and world taste credentials, in conjunction with NPD to extend our variants across world flavours will enable Veetee to realise to its full potential in the UK, as well as international markets."