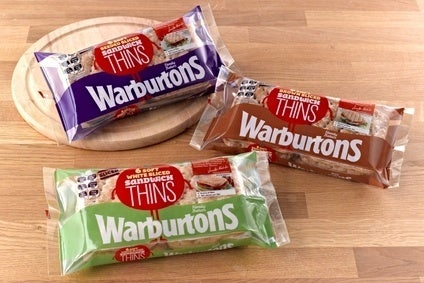 Privately-owned UK baker Warburtons has reported higher annual sales and operating profits in its most recent accounts – although the absence of a dividend from a subsidiary hit its bottom line.
Warburtons booked revenue of GBP562.1m for the 12 months to 28 September, up from GBP523.7m a year earlier.
The higher sales, which Warburtons came off the back of NPD, led to an operating profit of GBP33.9m, up sharply from the GBP19.4m it filed the previous year, although that figure was hit by charges.
The absence of a GBP55m, plus a higher tax bill, meant Warburtons' net profit was lower. It stood at GBP18m, down from GBP67.2m a year earlier.
Chairman Jonathan Warburton said: "Our fifth-generation family business continues to grow. The key driver of our revenue growth is, in particular, due to the increased sales of our new sandwich alternatives products, such as our first to market sandwich thins. We remain committed to growth and diversification and continue to invest in our people, our innovation, our infrastructure and in new growth areas such as our free-from business."