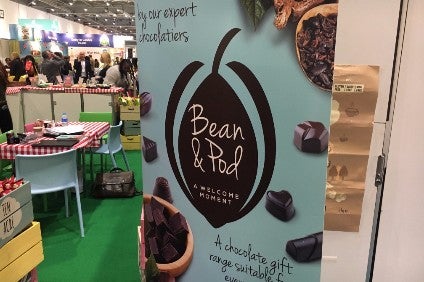 Yumsh Snacks, the UK savoury snacks maker and owner of the Ten Acre brand, plans to launch a range of chocolate products.
Tony Goodman, the CEO of Yumsh Snacks, told just-food the company had embarked on a "soft launch" of its Bean & Pod range of chocolates "with a very limited number of retailers" in the UK.
Speaking to just-food at the IFE trade show in London yesterday (22 March), Goodman said Yumsh had "lined up" three UK and three overseas distributors for the chocolates. Distributors in Germany, Canada and Gibraltar had taken on the range.
On Yumsh's UK plans for Bean & Pod, Goodman said the company was not looking to secure listings with the company's major multiple retailers. "We're not seeing these as Big Four-type products. We will be pushing these out to our customer base, both distributors and direct to retail in a number of places, gauging the reaction and building it up."
Yumsh's business has so far focused on savoury snacks. Goodman insisted a move into chocolates had been part of the company's growth strategy.
"We're a snacks business. We started with crisps, we moved onto popcorn. Chocolate was always in our sights; from the beginning it was always part of the plan. So, not really a left-hand turn, more a direction we were always going to take. We're providing premium snacks products for people of discerning taste and the general market," Goodman said.
Yumsh's savoury snacks business has focused on providing free-from products. Goodman said initially the company's move into chocolates would focus on conventional products. "It's not completely free-from. We do have a dairy-free selection. We will be looking to introduce more free-from products in the future."