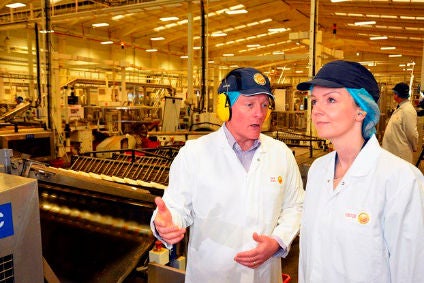 UK International Trade Secretary Liz Truss has the country's food and farming standards will be maintained in any trade deal agreed with the US as fears about the country importing chlorinated chicken and hormone-fed beef persist.
But speaking in the House of Commons yesterday (8 October) she refused to sanction a "blanket ban" on imports from countries with different food rules.
Truss was being questioned on the issue against a background of fears among some in the UK farming community and in the ruling Conservative Party that the UK government's eagerness to ink a trade deal with the US, once the post-Brexit transition period is over at the end of this year, will see it agree to allow heavily treated meat products into the UK. Such produce is banned in the country under European Union rules.
A petition organised by the National Farmers Union, calling for all food eaten in the UK to be made to high standards, has gathered more than a million signatures.
The Conservative government has consistently denied products including chlorinated chicken will be allowed into the UK and Truss seemed to reiterate that yesterday when she said: "In any trade deal we strike, we will be taking into account our high standards to make sure our farmers are undermined."
It is widely assumed that the use of the word "undermined" was a gaffe and that she meant to say that they would be protected.
An amendment last month to the Agriculture Bill in the UK Parliament's upper chamber – the House of Lords – attempted to stop the import of food produced overseas with lower animal welfare standards but political commentators expect the government to overturn that.
Truss said any "blanket ban" would prevent "developing countries from sending their foodstuffs to the UK" and said that under the World Trade Organization's Most Favoured Nation rules "you have to apply the same to every country you are dealing with".
On the issue of imports from the US and a future trade deal, the UK's Department for the Environment, Food and Agriculture (DEFRA) said today (9 October): "This government has been clear it will not sign a trade deal that will compromise on our high environmental protection, animal welfare and food standards, and claims to the contrary are unhelpful scaremongering. We are a world leader in these areas and that will not change.
"Chlorinated chicken and hormone-injected beef are not permitted for import into the UK. This will be retained through the EU Withdrawal Act and enshrined in UK law at the end of the transition period."