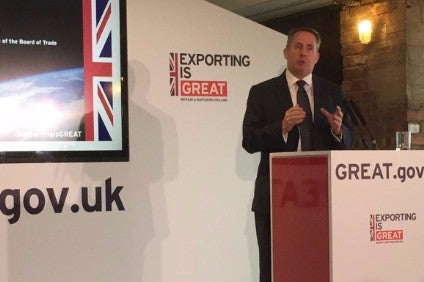 The UK has secured a GBP240m (US$309.1m) deal with China for the import into that country of dairy products made with milk sourced from third countries, a boon for local manufacturers currently immersed in the uncertainties of Brexit.
International Trade Secretary Liam Fox MP announced the five-year agreement today (23 August) after meetings with China's General Administration of Customs.
The deal further opens up a market for UK dairy producers who shipped more than GBP96m of such products to China in 2017, according to an announcement on the government's official website. Dairy is one of China's fastest-growing segments within the food space, expanding at an annual rate of more than 20%, the statement said.
Fox, who heads up the Department for International Trade (DIT), noted that China is the UK's fifth-largest trading partner, with exports to the Asian country up almost 29% last year.
He added: "As an international economic department, DIT is working with our partners across the world to liberalise international trade by removing barriers to commerce, helping businesses and ensuring greater choice for consumers worldwide. Today's announcement will boost our GBP67.5bn trading relationship even further.
"This is my fourth visit to China this year and I'm delighted to see the completion of this deal, bringing significant benefits to dairy producers across the UK at a time when British food and drink exports are at a record high."
The UK is due to leave the European Union on 29 March net year, with time fast running out to avoid a 'no-deal' Brexit, a scenario that the country's industry lobby group, The Food and Drink Federation, has warned could lead to food shortages and push up prices for consumers.
The deal with China comes as the government issues a series of industry-specific "technical notices" giving guidance to UK businesses in the event of a no-deal Brexit in March.
In a separate statement today, the government explained: "A scenario in which the UK leaves the EU without agreement (a 'no-deal' scenario) remains unlikely given the mutual interests of the UK and the EU in securing a negotiated outcome.
"Negotiations are progressing well and both we and the EU continue to work hard to seek a positive deal. However, it's our duty as a responsible government to prepare for all eventualities, including 'no deal', until we can be certain of the outcome of those negotiations."
Speaking of today's dairy deal with China, Trade Commissioner Richard Burn said UK exports into China of yogurt, flavoured milk and cheese have seen "rapid" growth as consumers seek to boost their nutrition intake. But he added there is "untapped potential" for UK food and drink manufacturers.
Environment Secretary Michael Gove MP commented: "Our world-class dairy producers already export GBP1.7bn worth of produce per year. This milestone will help to unlock the UK food and drink industry's full potential, forging new trading relationships around the globe. This step shows we can be a truly outward looking Britain outside the European Union."