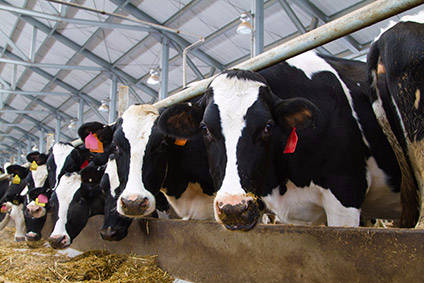 The UK has backed the recommendation of an independent review calling for a further cut in antibiotic use in livestock and fish farmed for food to help combat antimicrobial resistance (AMR).
The Government said it is committed to a target of reducing antibiotic use to a "multi-species average of 50mg/kg, using methodology harmonised across other countries in Europe", by 2018.
The target, which the Government said compares to the most recent 2014 level of 62mg/kg of antibiotic use, is in response to the findings of an AMR review set up by former prime minister David Cameron and led by Lord Jim O'Neill.
In a joint foreword to a Government report responding to the review's findings, Andrea Leadsom, the UK's Secretary of State for Environment, Food and Rural Affairs and Jeremy Hunt, the country's Health Secretary, said: "There is a real risk that, if we do nothing, modern medicine as we know it will be undermined."
The ministers said: "Jim O'Neill is a distinguished economist and has brought not only the skills and analysis of an economist to the problem of drug resistance, but also his understanding of emerging economies. He has identified the huge scale of the challenge, but also the concrete steps we can and must take."
The UK "will work closely with different individual sectors to ensure that appropriate sector specific reduction targets are agreed by 2017 so that future reductions are greatest where there is most scope, and that they are underpinned by improvements which focus on encouraging best practice and responsible use of antibiotics and which safeguard animal health and welfare", the government report said.
According to the UK government, the 2018 reduction target builds on an antibiotic monitoring system set up by the country's poultry sector five years ago, which "has already demonstrated a 44% reduction in the use of antibiotics, by weight over 2012 to 2015".
Ministers have also agreed to run "a regional, highly-targeted pilot campaign to determine the most effective way to raise awareness of antimicrobial resistance, and drive behaviour change amongst key audiences", the report said.
In addition, the report said the UK will work with other governments towards a potential global AMR public awareness campaign, which was another of the O'Neill review's recommendations. "The review on AMR rightly takes a global perspective as AMR is a global issue, with resistant micro-organisms paying no heed to national boundaries," the government said. "It can therefore only truly be tackled by collaboration within and between nations."
In a separate report published yesterday (21 September), Professor Guy Poppy, the chief scientific adviser at the UK Food Standards Agency (FSA), said: "Antimicrobial resistance means that it's harder, or impossible, to treat an increasing range of infections. The FSA works to protect consumer interests in relation to food, so the role that food plays in the problem of antimicrobial resistance is of concern."
Prof. Poppy said: "While the problem cannot be eliminated, its development can be slowed. We need a holistic approach throughout the food supply chain, and to understand how a whole range of practices, such as how we care for farm animals, handle food or irrigate crops, might affect the spread of antimicrobial resistance to our food, and ultimately to us."
Meanwhile, the FSA is undertaking a survey of AMR in raw beef, pork and chicken at retail level on behalf of the European Commission. The retail part of the survey runs from 2015 to 2020.
The FSA said earlier this month it was preparing to release the results of its tests on meat and other produce for AMR, after campaigners published new research indicating the overuse of antibiotics in farming is contributing to drug resistance.
According to the study commissioned by the Alliance to Save Our Antibiotics, a coalition of health professionals, animal welfare groups and other NGOs in the UK, there are "extremely high levels of E. coli resistant to essential antibiotics for treating serious human E. coli infections" on supermarket chicken and pork sold in the country.
The FSA could not be contacted for comment about its test results today.
The use of antibiotics in the foodservice supply chain were in the spotlight earlier this year, with investors in the UK calling on operators to take action.