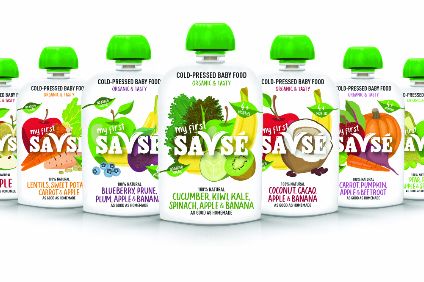 Savsé, which claims to be the UK's fastest growing smoothie brand, has launched what it says is Europe's first cold-pressed baby food.
Suitable for babies aged over four months, My First Savsé is an organic baby food made from fruit and vegetables the company claims to be as good as homemade.
"We're on a mission to change the food and drink industry for the better, and what category is more important than early nutrition," CEO and founder Guka Tavberidze said. "Just like our smoothie range, we're determined to bring truly nutritious products to the consumer, with absolutely no compromise on taste or convenience."
The demand from parents for fresh, non-boiled food is on the increase, Tavberidze said, claiming awareness of the health benefits of cold-pressed products on the rise.
The My First Savsé range comprises seven flavours, including apple; carrot, pumpkin, apple and beetroot; and cucumber, kiwi, kale, spinach, apple and banana.
The products will be available from 26 May at retailers including Morrisons, Ocado and Whole Foods Market, with an RRP of GBP1.49 (US$1.93).