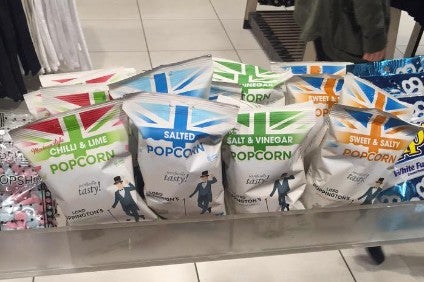 UK crisp maker Burts Chips has snapped up local peer Savoury & Sweet, a manufacturer of own-label snacks and the owner of popcorn brand Lord Poppington's.
The deal, struck for an undisclosed sum, will see Plymouth-based Burts retain Savoury & Sweet's production, warehousing and offices further north in Leicester.
Savoury & Sweet said it will be rebranded Burt Snacks "in due course" with its new owner having plans to triple capacity at the Leicester site. Burts, which said it will retain Savoury & Sweet's 99 staff, said its new asset would be used to expand its "better-for-you" business.
Burts managing director David Nairn said: "The Burts business has grown significantly over the last five years, from GBP11.4m (US$15.5m) in 2013 to an anticipated GBP37m post-acquisition for 2017. While impressive, our ambition is to drive the business to over GBP100m in the next five years to become the UK's biggest player within premium snacking. While organic growth of our existing operation in Plymouth is a big part of this and anticipated to reach GBP70m, acquisitions of like-minded and complementary businesses will help us accelerate our expansion."
Savoury & Sweet, set up in 2010, markets popcorn under a second brand – Popcorn & Me – and says it supplies own-label snacks for "some of the world's largest food companies".
Nairn added: "To realise our ambitions, it was clear that we needed to expand not only our capacity but also diversify our product portfolio with new technologies and innovations. Our wish was to achieve this within Burts and extend our own capabilities rather than look at the co-packing arrangements that some of our competitors have used. We therefore needed to identify high quality existing businesses with a similar ethos of quality as us, but who could offer different snacking expertise and format technology. Savoury & Sweet fulfils both of these aims."
Burts was founded in 1997 and has forged a number of licensed partnerships with beer brands such as Diageo's Guinness, Marston's-owned beer brand Hobgoblin and spicy sauce business Levi Roots.