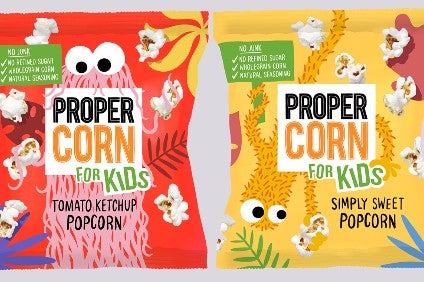 London-based snacks company Propercorn says it is eyeing a "global push" after bringing in former Tyrrells managing director Mike Hedges as its chief executive officer.
Propercorn said Hedges' arrival will presage international expansion and new product innovation.
Co-founder Cassandra Stavrou said: "We have big plans for our next chapter – we want to become the global leaders and standout innovators in healthy snacking."
The hire comes after recent developments, including Propercorn's biggest brand refresh since start-up in 2011, a range aimed at children and the launch of its first chocolate-flavour popcorn.
Hedges was managing director at Tyrrells from January 2016 to July 2017, having joined the company in 2008 as sales director. Prior to Tyrrells, he held senior roles at Associated British Foods' tea business Twinings, brewing group InBev and cider maker Bulmers. He began his career at the convenience consultancy SRCG.
Hedges will work alongside company co-founders Stavrou and Ryan Kohn to take Propercorn global, launching in new markets in addition to the seven countries in which the company sells today.
Backed since 2016 by investment vehicles Piper and JamJar, Propercorn is also looking to expand its product range.
Hedges said: "I've watched with tremendous admiration as Cassandra, Ryan and their team have built Propercorn into one of the UK's best-loved snack brands. I can't wait to help them deliver their ambitious international goals."