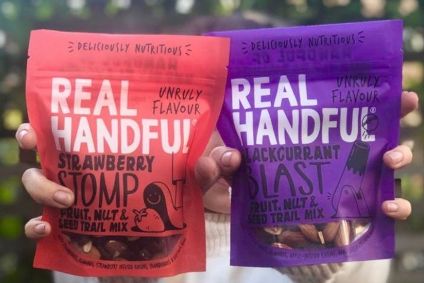 Real Handful has attracted investment the fledgling UK snacks firm will put towards product development and marketing.
The Manchester-based business, set up in 2013, has secured GBP250,000 (US$326,000) in investment as it builds on what co-founder and managing director Joe Taylor called "a breakthrough year" in 2019.
"Major retail customers began to share our vision for bringing a fresh approach to the fruit-and-nut snacking category that delivers incredible flavour," Taylor said. The company's products are stocked at UK grocers including Tesco, Sainsbury's and Asda.
The investment has come from NPIF – Maven Equity Finance, which is managed by private-equity firm Maven Capital Partners. It is also part of the Northern Powerhouse Investment Fund, which combines UK government and EU money to back businesses in the north of England.
"The business is operating in a growing segment of the snacking market and demonstrated this potential in 2019 with turnover increasing more than 100%," investment associate Tom Morgan said.
Taylor and his wife Carly set up Real Handful seven years ago, launching the brand in 2016. He worked for UK smoothie maker Innocent Drinks, while Carly spent 15 years at another Manchester-based firm, The Authentic Food Company, most latterly as head of marketing.