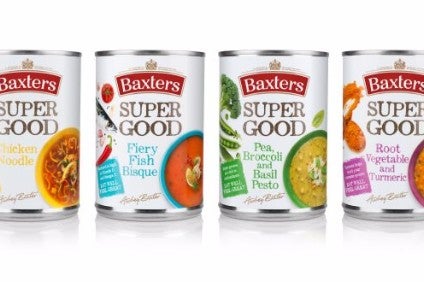 Baxters Food Group, the UK soup maker, says it is focusing on goodness and well-being with its new product launch Super Good.
The Fochabers, Scotland-based firm, which also produces preserves, beetroot and chutney, said the Super Good "philosophy" reflects increasing evidence and understanding of the benefits of so-called 'super' ingredients.
"From the anti-inflammatory values of ginger and turmeric to the high fibre content of super greens, the vitamin D and B delivered in oily fish and the high protein provided from chicken, this is a range packed full of goodness," it said.
The range is made up of six different soups – Tomato, Orange and Ginger; Chicken Broccoli and Rice, Chicken Noodle; Fiery Fish Bisque; Pea, Broccoli and Basil Pesto and Root Vegetable and Turmeric.
Alongside the launch of Super Good, Baxters' existing Hearty range has been revamped to give "greater shelf appeal along with improved clarity of its health benefits and goodness credentials".
Baxters said Hearty is designed to help consumers eat more protein with "great tasting, energy-boosting ingredients providing up to 20% energy from protein in just one can".
As well as boosting the protein in the existing range, three new variants have been created; Carrot, Ginger and Quinoa, Moroccan Chicken Harira and Spicy Green Lentil Dhal.
Cara Chambers, marketing director at Baxters, said: "The introduction of Super Good is in recognition of changing consumer demands, attitudes and tastes.
"With a focus on the importance of a healthy lifestyle, this soup range is built around key ingredients which are promoted as having significant health benefits. We have always been committed to goodness in our soups and this range goes a step further putting it at the very heart of the range."
The RRP for both ranges is GBP1.49 (US$1.97) for 400g.