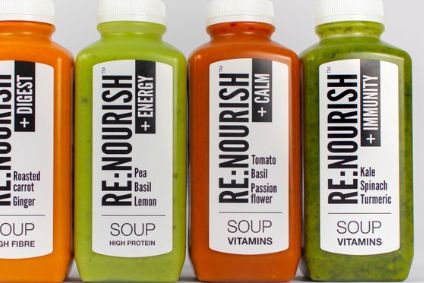 Re-Nourish, the UK soup maker, has received "seven-figure" funding the venture arm of food-ingredients major Döhler and an unnamed investment angel.
The company, based in Surrey, south of London, specialises in "nutrient-dense" soups and was founded by former critical care nurse Nikki Clark.
The start-up, launched in March 2019, makes healthy soups that can be heated and drunk straight from the bottle.
Re-Nourish plans to use the investment money to increase marketing activity and spearhead growth in the foodservice category and by accessing major UK retailers. It also wants to expand into other European countries.
Clark, the company's CEO, said: "We've secured a significant investment, which is a huge milestone for the business, and I very much see this as an opportunity to further grow and disrupt the category.
"With the help of Döhler Ventures and the private investment angel, we now have an exciting pipeline of activity to help expand the business, including entering foodservice and launching the products into Europe."
Re-Nourish has hired Steve Parsons, previously at pie maker Pukka, to take on the role as out-of-home and head of foodservice to help with the export of the product into Europe.
Clark said: "While life may have slowed down over the past few months due to Covid-19, it's all the more important to have vitamin-boosting foods as well as packaging that means you can avoiding using the bowls and spoons at work when you go back to the office."
In terms of future aspiration, she said: "While Europe is next for the brand, I have hopes of Re: Nourish eventually going global."
Döhler's other investments include backing for chickpea snacks firm Brave and alternative-dairy business Mighty Pea M.lk.
Read just-food's analysis – Beyond Covid-19, will consumers' interest in immunity endure?