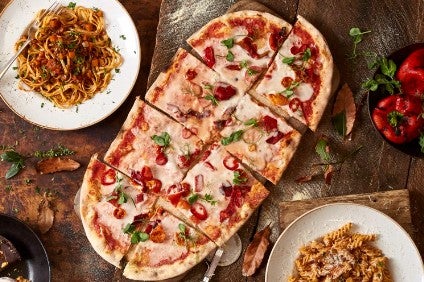 UK grocer Sainsbury's is partnering with Italian restaurant chain Zizzi to provide an in-store takeaway pizza counter.
In a move that will be watched closely by pizza manufacturers, the supermarket will serve up Zizzi's "restaurant quality" hot pizzas to go.
A trial has started in Sainsbury's store in Balham in south London. It is offering a selection of Zizzi's hand-stretched, stone-baked Rustica pizzas, including vegan options and topping customisation, alongside garlic breads. It also offers a pizza of the month special.
Sainsbury's said the move follows the introduction of Sushi Gourmet counters, Patisserie Valerie products and a Crussh counter to its stores over the last year.
The supermarket's customers will be able to order pizzas either in store or via Click & Collect on the Zizzi website, paying for the products at a dedicated takeaway check out at the store's hot food counter.
Ready-to-eat Zizzi pizza from the Sainsbury's Balham store will also be available to Deliveroo users via the Deliveroo platform.
Sainsbury's director of fresh food, Adrian Cook, said: "We think customers will love the convenience of being able to pick up their ready to eat, restaurant-quality pizza alongside their other favourite foods for a special meal, all under one roof."
Steve Holmes, CEO of Zizzi, said, "Changing consumer lifestyles have created opportunities within casual dining and we have seen delivery sales grow rapidly behind the increased demand for restaurant quality food enjoyed at home.
"Offering our signature Rustica Pizzas to go in Sainsbury's is a natural progression in offering another convenient way for customers to purchase their favourite pizza, ready to eat."