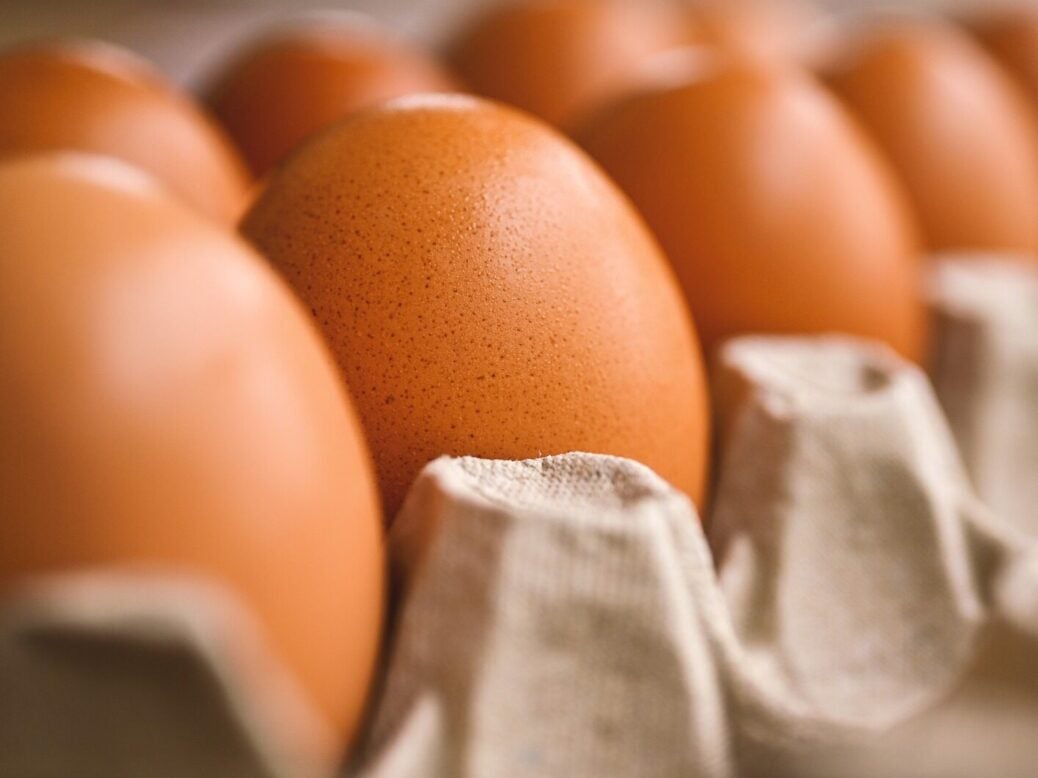 The British Retail Consortium today (16 November) confirmed some UK supermarkets are putting limits on egg purchases due to shortages largely linked to avian influenza in hens.
Acting as the mouthpiece for grocers, the industry body also cited increased costs due to inflationary inputs putting a strain on egg farmers. Meanwhile, the British Free Range Egg Producers Association (BFREPA) argues suppliers are not being paid a "sustainable" price, reiterating a warning put out in March over potential egg shortages.
Andrew Opie, the director of food and sustainability at the British Retail Consortium (BRC), said in a statement: "While avian flu has disrupted the supply of some egg ranges, retailers are experts at managing supply chains and are working hard to minimise impact on customers. Some stores have introduced temporary limits on the number of boxes customers can buy to ensure availability for everyone."
Contacted by Just Food to confirm any caps on egg purchases, both Asda and discounter Lidl referred this publication to the BRC statement. Asda, one of the UK's so-called 'big four' supermarkets along with Tesco, Sainsbury's and now Aldi, said via a spokesperson it is an "industry-wide issue".
Opie added: "Supermarkets source the vast majority of their food from the UK and know they need to pay a sustainable price to egg farmers but are constrained by how much additional cost they can pass onto consumers during a cost-of-living crisis."
A spokesperson for Sainsbury's said "we have not introduced purchase limits, but again referred Just Food to the BRC statement. Morrisons, which slipped out of the big four this year to the benefit of Aldi, said "we currently have no major supply issues on eggs and support the BRC line".
Aldi had not responded to a request for comment at the time of writing.
Tesco, meanwhile, said it had "good egg availability and there are no buying limits at present".
A spokesperson said: "We are working with our supplier partners to ensure supply of eggs for our customers. Earlier this year, we announced new five-year contracts for our egg suppliers, reiterating our commitment to the UK egg industry."
While Sainsbury's has not put limits on egg purchases, the retailer confirmed it has turned to markets outside the UK, a move criticised by the BFREPA.
The Sainsbury's spokesperson added: "Currently, supermarkets are experiencing some supply challenges with eggs. At Sainsbury's, we are committed to sourcing British as much as possible and continue to work hard with our suppliers across the UK to ensure customers can buy what they need. To help maintain availability we are also temporarily sourcing some eggs from Italy, which will be clearly labelled on the packaging."
Robert Gooch, BFREPA's CEO, said he would seek talks with Sainsbury's in what he described as a "disappointing" decision.
Gooch added: "Seeing Italian eggs on the shelves is a wake-up call to all retailers that they can't expect farmers to work for nothing. Enough is enough. I will be writing to Sainsbury's today to ask for a meeting to discuss how we forge a more sustainable future for egg producers.
"Sainsbury's has made strong commitments to British free-range egg producers in the past and I hope a positive dialogue can bring about change from what is a disappointing situation."
He said egg farmers are facing increasing costs for chicken feed, energy, diesel, pullets and packaging, factors that have "crippled many businesses, causing farms to reduce hen numbers, pause production temporarily, or quit the industry altogether".
Gooch's concerns over costs were echoed by another industry body, the British Egg Industry Council (BEIC), which suggested supply would return to normal once the input-cost pressures ease.
The BEIC said: "The industry will continue to work closely with retailers to get eggs from the farm onto shelves as quickly as possible to ensure we are able to meet consumer demand for British Lion eggs, which we know is what consumers expect."