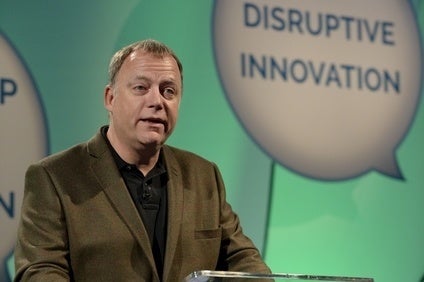 Andrew Higginson, the deputy chairman of Morrisons and former Tesco finance director, has said branded suppliers and supermarkets must "reset" their relationship in a bid to revive a stagnant sector.
In a straight-talking address at the IGD Convention in London, Higginson, who formally joined the Morrisons board last week, criticised UK supermarkets for losing the trust of consumers with their pricing and promotional strategy and hit out at the standard of products available in-store.
"The dialogue with customers hasn't been honest and they know it. Customers have lost trust in supermarket pricing and it will take time for supermarkets to rebuild that trust," Higginson said.
Higginson left Tesco in 2012 after stints as finance director and then chief executive of retailing services. His departure from Tesco marked his exit from the UK supermarket sector and he joined UK high-street discounter Poundland as chairman in 2012.
Higginson said discounters like Aldi, Lidl and Poundland "read the customer better in the recession than the core incumbents did". However, he also criticised the Big Four grocers' focus on marketing that centred on comparing prices with each other.
"Supermarkets haven't focused on customers, nor on Aldi, nor on Lidl, nor on Poundland. As an observer looking in, they have been more focused on each other. The marketing dialogue of the last few years has astonished me really. It's the Big Four talking to each other, not talking to customers," he said.
The payments between retailers and suppliers have come into the spotlight after Tesco's admission it had over-stated profits to the tune of GBP250m. Higginson said such moves reflected badly on supermarkets.
"We need to revisit relationships with our key suppliers. We need to partner with key suppliers not talk about partnerships. The evidence is everywhere. This whole situation that's emerging with clawed back margins and suppler incomes sloshing around and so on is a sign of weak supermarkets, not strong supermarkets."
However, Higginson said the current relationship between retailers and manufacturers also affected suppliers.
"It's not good for suppliers either. It leads to poor decisions in suppliers," he said. "I go around big stores now and I see how many poor tertiary variants of very good brands are there now knocking around on supermarket shelves that should never have made the cut in truth. Some of the promotions that we're seeing on important, valuable promotional ends are really just advertising for a range of products from a particular manufacturer.
"That kind of weakness in the system doesn't help anybody. Having third-rate tertiary brands on supermarket shelves because you've paid to get them on there isn't great for your business either. You need a harsher measure."
He added: "We need to reset our relationship, not to base it on childish threats."