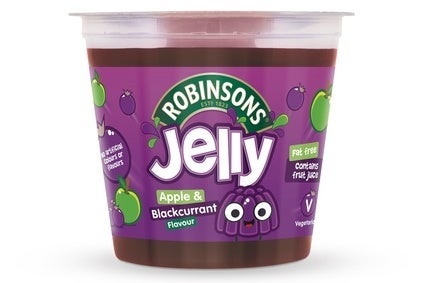 Symington's has announced the launch of Robinsons Jelly in the UK.
Mirroring some of the beverage-brands most popular cordial flavours, the new jellies will be aimed at women with children and families.
The range will come in two formats: 125g Jelly Pots and an 11.5g Crystal Sachet form.
The Jelly Pots, available in Orange, Summer Fruits and Apple and Blackcurrant contain no added sugar. They will retail at GBP0.50p (US$0.85) per pot.
The Robinsons Jelly Crystal Sachet is available in Orange, Summer Fruits, Apple and Blackcurrant and Orange and Pineapple. They will retail at GBP0.43p per sachet.
Gary Bustard, brand manager at Symington's said: "We know that mums are looking to buy quality and flavoursome products for their children – and for themselves – and Robinsons Jelly offers just that."
Both products will be available in Asda from mid-July and are expected to roll out in other supermarkets across the summer.