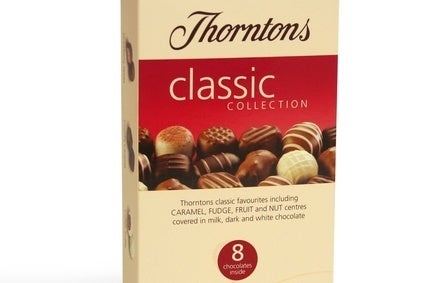 Shares in Thorntons jumped today (3 July) as the UK confectioner revealed it had secured new credit facilities with lenders.
Thorntons said existing lenders had agreed in principle to provide an increased unsecured committed revolving credit facility of GBP75m (US$128.6m), which will run to October 2018.
"This increased facility will provide headroom for the increased working capital requirements associated with serving third-party retailers," said Investec analyst Nicola Mallard.
Alongside news of the deal, Thorntons also revealed its borrowing limit had been "inadvertently" breached "on a number of occasions" in recent years but said lenders were still "supportive" of the business.
Thorntons also said it should hit market expectations for annual pre-tax profits for the year to 28 June.
The company said its annual pre-tax profits, before exceptional items, is "anticipated" to be in-line with market expectations of GBP7.1m. In the previous financial year, it booked pre-tax profits of GBP4.7m.
It also revealed its commerical division, which sells to customers including the UK's leading supermarket chains, had seen sales increase at a "double-digit" rate during the fourth quarter of its financial year.
Shares in Thorntons were up 7.94% at 115.5p at 15:00 BST.