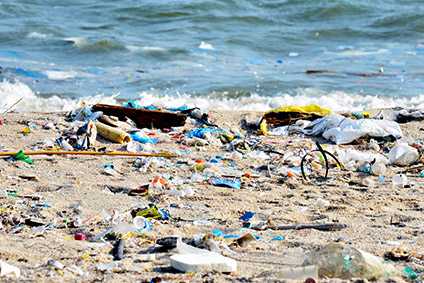 The UK plans to target plastic packaging as part of the Government's efforts to combat the damaging effects on the planet.
Chancellor Philip Hammond said in his Budget speech yesterday (29 October) he will look to apply a tax on the manufacture and import of plastic packaging containing less than 30% recyclable plastics. Consultations are due to take place on the size of the levy and the timetable for its implementation.
Hammond's announcement came on the same day major global consumer-goods giants such as Nestlé, Unilever and Danone signed a new commitment on plastic packaging, which, under the auspices of UK-based charity The Ellen MacArthur Foundation, aims to create a "new normal" for plastics, including the elimination of single-use packaging materials.
Some 250 organisations, also including retailers Ahold Delhaize and Marks and Spencer, the packaging producer Amcor, plus governments and NGOs, have signed the commitment.
Disposable plastic cups is another area the UK government has been considering imposing taxes, for coffee and other types of beverages, but Hammond and his colleagues said a levy "in isolation would not, at this point, deliver a decisive shift from disposable to reusable cups across all beverage types".
He added: "I will monitor carefully the effectiveness of the action the takeaway drinks industry is already taking to reduce single-use plastics….and I will return to this issue if sufficient progress is not made."
Hammond added the UK must become a world leader in tackling the detrimental effects plastics have on the plant and the ocean, as well as the "deadly" impact on wildlife.
"Working across government, this ambitious package reflects our determination to lead the world in the crusade to rid the oceans and the environment of plastic waste," he concluded.
Ian Wright, the chief executive of Uk trade body The Food & Drink Federation, said in a statement: "While we are committed to reducing packaging waste and working with Government, today's new tax on plastic packaging will result in significantly increased costs for UK food and drink manufacturers, due to the input costs required to produce food-grade recycled packaging."