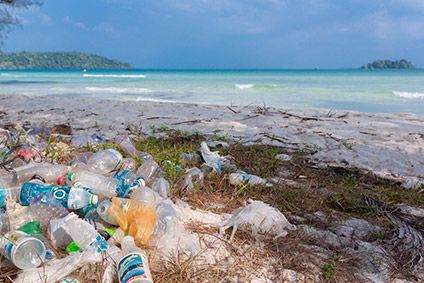 The UK government is to consider whether to use the country's tax system to tackle waste from single-use plastics.
In his spring statement to the UK Parliament, Chancellor Philip Hammond announced the Government would launch a consultation into how changes to the tax system or charges could be used to cut the amount of single-use plastics wasted by reducing unnecessary production, increasing reuse, and improving recycling.
UK food manufacturers welcomed the consultation but underlined the role plastics play in "protecting and preserving food products throughout the food and drink supply chain".
Addressing MPs yesterday, Hammond said: "This government is determined that our generation should leave the natural environment in a better state than we found it."
In January, UK Prime Minister Theresa May vowed the country would "demonstrate global leadership" on plastics by taking action "at every stage of the production and consumption of plastic".
In a speech launching the UK's 25 Year Enviroment Plan, May said the Government would "encourage manufacturers to take responsibility for the impacts of their products and rationalise the number of different types of plastics they use", as well move to drive down the amount of plastic in circulation through reducing demand".
In his speech on Tuesday (14 March), Hammond said the UK government would "follow up on the vital issue of plastic littering and the threat to our oceans with a call for evidence to support us in delivering on our vow to tackle this complex issue.
Hammon said: "It will look at the whole supply chain for single-use plastics, at alternative materials, reusable options and recycling opportunities. And it will look at how the tax system can help drive the technological progress and behavioural change we need, not as a way of raising revenue but as a way of changing behaviour."
He added the UK government would look to "encourage innovation" by "investing to develop new, greener, products and processes, funded from the revenues that are raised".
Hammond said: "And as a down-payment, we'll award GBP20m now from existing departmental budgets to businesses and universities, to stimulate new thinking and rapid solutions in this area during the call for evidence."
Helen Munday, the chief scientific officer of UK industry body Food and Drink Federation, said: "FDF fully recognises that more needs to be done to reduce litter and drive up recycling across all materials, including plastics, and this needs to encompass increasing the capture of used packaging both on-the-go and in the home.
"We therefore welcome the opportunity to contribute to the Government's public consultation process and welcome the launch of the innovation fund to develop the technologies and appropriate approaches to reduce plastic waste.
"It is important that any financial investments be made where they can be most effective in driving change, such as reform of the current UK producer responsibility system for packaging. Additionally, it is vital that these innovations and other actions take full account of the important role of plastics in protecting and preserving food products throughout the food and drink supply chain. Plastics have become an integral part of ensuring food safety and help to prevent and minimise food waste, and those roles must be filled to ensure a safe, affordable, and sustainable food and drink value chain."
The consultation closes on 18 May.