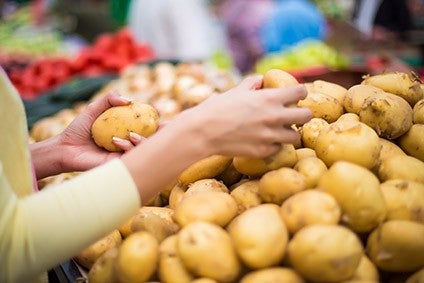 A UK trade organisation is warning of a potential potato shortage in the first half of next year following the adverse winter and hot summer weather conditions.
The Potato Processors' Association (PPA), which represents UK manufacturers of frozen chips, crisps and other potato products, based its outlook on recent data from AHDB Potatoes showing 2018 as being one of the country's worst harvests in "recent years, with volumes significantly lower than average and processors noting a direct impact on the quality of available raw materials".
"These latest figures from AHDB confirm that there will be serious issues in terms of availability and quality of potatoes for processing through the first half of 2019," the PPA said in a statement.
"Although the 2018 harvest is now complete, UK potato processors (crisp and French fry manufacturers) anticipate that the impacts of this year's weather conditions will continue to be felt by the sector until at least summer 2019, when the early potato crop starts to be lifted," the PPA warned.
The UK was hit by extreme cold and wet winter weather conditions dubbed 'The Beast from the East' this year, and then an unusually hot summer spell, both of which have hit potato volumes and depleted the amount of usable crop. The PPA said the most notable impacts can be seen in size, defects and colour, along with cracking and bruising.
"In addition, the combination of in-field stress caused by the weather conditions, and the fact that some crops were harvested later than normal (to allow more time for them to grow), is likely to mean an increase in the volume of materials encountering an early dormancy break," the PPA said. "This has significant implications for sprouting, which will lead to increased weight loss from stored tubers, increased sugars and will particularly impact on long-term storage."
And the trade association has also warned the situation will not be alleviated by potato imports because the rest of Europe experienced similar weather conditions during the year. It pointed to Brexit too as a significant uncertainty affecting the UK's potato industry.
"The lack of a definitive position on potato and potato seed importation, post-EU exit on 29 March 2019 only adds to the challenges faced by the sector," the PPA said. "UK potato processors are working with growers on scheduling to ensure maximum use of the usable crop and the whole of the supply chain is working together to ensure that they can continue to provide high-quality finished products.
"Processors are limited, to an extent, by the physical characteristics of specific varieties required for crisp and French fry production, but will of course take a pragmatic and flexible approach on specifications wherever possible."
AHDB Potatoes is a division of the Agriculture and Horticulture Development Board, which is backed by UK farmers and growers.