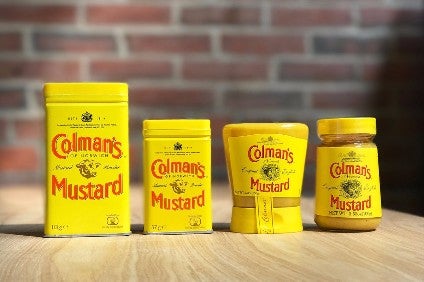 UK trade unions GMB and Unite are questioning the consultation process held by Unilever with the government and employees at its Colman's mustard site in the city of Norwich after the consumer goods giant said the plant would close.
Citing documents released under Freedom of Information requests, both unions claim there were "discrepancies" between what information the Anglo-Dutch company provided to the UK government and a consultation group representing the affected workers over the closure.
The unions allege the documents show Unilever offered some sort of "compromise" to Secretary of State for business Greg Clark even before any final decision had been made over the site and are calling for the government to investigate.
Unilever shares the Norwich plant with soft drinks maker Britvic, which announced in December it planned to vacate the factory towards the end of 2019 with the loss of around 249 jobs.
Unilever then followed with its formal decision made in January to close the plant, affecting about 113 workers, 40 of whom were offered redeployment. Another 25 would be found jobs at a new mustard milling and mint processing facility in Norwich, presumably with the remainder to be offered redundancy.
The unions said they have written to Clark, the Secretary of State for Business, Energy and Industrial Strategy, asking for clarity on why his department were told one thing, and Unilever workers and their unions another.
Eamon O'Hearn, GMB's national officer, said many of the Colman's workers and the wider community in Norwich believe Unilever had already decided to close the plant before any consultations were held, and said there were "serious concerns" whether any "meaningful consultation" had even been undertaken.
He said the knock-on-effect on the local economy will be the elimination of 1,000 jobs – using the UK government's employment multiplier for the food and drinks industry – and almost GBP10m (US$13.5m) from the loss of wages based on what he says is a "conservative estimate".
"It appears that Unilever made commitments to Greg Clark, which then appeared to have been deliberately withheld from their own workers throughout the review process," O'Hearn added.
"The notes beg the question, why was Unilever offering Clark a "compromise" before any final decision to Norwich was made? It is no surprise that Unilever actively excluded union officers from the formal HR1 Consultation process, where these discrepancies would have been properly challenged."
Unilever said it refuted the claims of discrepancies, adding that union representatives had been present at the site and involved throughout the review and consultation process.
"We absolutely refute that there are any discrepancies between what we have discussed in our employee Consultation Group and what we have said to other stakeholders," the company said in a statement sent to just-food.
"We have always been clear that we would consider a range of options during the review of our factory following Britvic's decision to leave our shared site. These options were discussed and evaluated with significant input from our Consultation Group over a three-month period, and we then went into a formal consultation process following the announcement of our own proposals in January where we discussed them in detail."
Clive Lewis, the MP for Norwich South, chimed in with the proposition Unilever "played fast and loose" with its consultation process after GMB had flagged concerns with respect to Britvic's own consultations six months ago.
Lewis said it is time for Clark and MP for Norwich, Chloe Smith, to "pull their weight and ensure these two companies do right by their employees".
"Failing to conduct a meaningful consultation is one of the pitifully few areas where workers and their unions can challenge their employers and claim compensation," Lewis added. "It's therefore no wonder they're in denial."
An official for Unite said the union was "extremely concerned by the lack of transparency and disclosure" by Unilever, adding the company's reputation had been tarnished.
"Business secretary Greg Clark must do the right thing and investigate," said Rhys McCarthy, Unite's national officer. "This is a stain on Unilever's reputation that won't wash off unless the company comes clean about its compromise offer as the Colman's site closure is having a huge impact on the workers and hitting the wider Norwich economy."