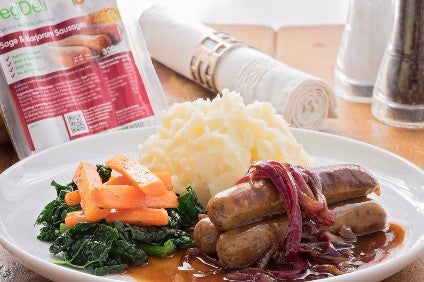 VBites, a UK plant-based food manufacturer owned by campaigner and food writer Heather Mills, is planning to expand after receiving a "seven-figure" funding package from bank HSBC UK.
The Brighton-based business is to site its third factory in Newcastle in England's north east, from where Mills – the former wife of Beatle Sir Paul McCartney – originates.
VBites already has two production facilities in England, one at Corby, Northamptonshire, in the East Midlands and another in the north east at Peterlee, County Durham, based in a former Walker's Crisps factory which it bought in May.
It expects its new Newcastle plant to create up to 300 jobs and said it is already seeking a fourth location to grow the business further.
The company said HSBC's funding will also enable it to purchase new food manufacturing equipment, including high-performance mixing and blending equipment, slicing machine and a packaging line for new products including vegan pizzas and dairy-free cheeses.
Mills said: "The demand for vegan produce has increased by 900% in the last three years, meaning we needed assistance to help increase our productivity, which is where HSBC UK stepped in."
HSBC UK area director Nick Hicks said: "VBites' expansion will not only bring new jobs to the city of Newcastle but will also see global exporting opportunities increase for this fantastic UK based company.
VBites produces a range of plant-based meals including fish-free Smoked Salmon Slices, dairy-free Pepperjack Cheezly and meat-free Maple Cured Rashers.
It exports to 24 countries and further expansion is planned in the US.