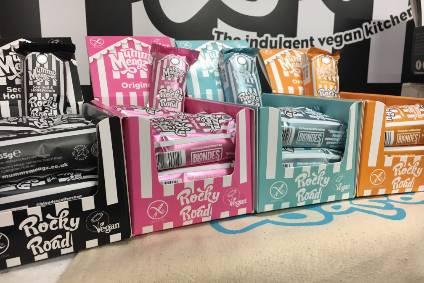 Mummy Meagz, a UK, family-owned producer of vegan confectionery, has secured listings with major supermarket chains in the UK and Germany.
The fledgling business, based just outside the city of Kingston upon Hull in eastern England, is selling its snack bars in one of Germany's largest grocers and, in November, will see one of the UK's 'big four' supermarkets stock its products.
"We've just got a listing with Rewe," Dean Adamson, Mummy Meagz managing director and co-owner, told just-food at the Natural & Organic Products Europe trade show in London.
Adamson said news of the UK listing had not been publicly disclosed but described the move as Mummy Meagz's "first big one" in its domestic market. "We're actually quite far pressing down the line to going into Australia," he added.
Mummy Meagz was set up in 2017 by Adamson, his partner Willow Boyle and her mother Meagan Boyle in 2017. The two-year-old company is a spin-off from Blondes, a vegan café run by Meagan and her family. The firm's snack bars are made by a co-manufacturer in West Sussex.
Matthew Glover, the founder of UK non-profit Veganuary, is an investor in Mummy Meagz, although the three family members remain, collectively, the company's majority shareholder.
"Between the three of us, the family, we've got a commanding share of the business. We make the decisions. We always wanted to keep more than 50%," Adamson said.
The business is targeting sales of GBP300,000 (US$393,000) to GBP350,000 in its current financial year, which started in February.
Adamson said: "There's been a lot of iterations, in terms of mistakes made. None of us [three] are from an FMCG background. We're all just super-passionate about the growth of veganism. We're all vegan and we were all bored of vegan nuts and seeds and naked bars and all that. We wanted something that was sweet confectionery, something where the first ingredient is sugar, something that might inspire more people to become vegan and try vegan food."