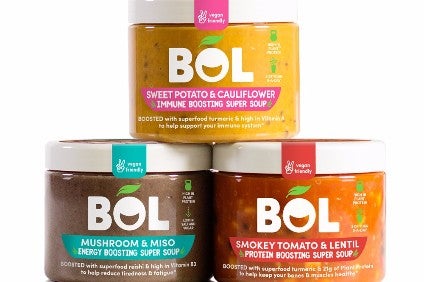 The UK's Bol Foods has ditched dairy ingredients in its products to become 100% plant-based.
The London-based natural food company said by removing dairy from its products it will save the equivalent of 91,000 sq m of farm land, 7m litres of water and 194 tonnes of carbon dioxide (CO2) in just one year.
Earlier this year, Bol Foods announced plans to remove dairy from all of its products, following its dropping meat and fish in 2017.
Since then, the company has been working alongside chefs and its nutritionist Ian Marber on reformulating its products.
The shift to 100% plant-based will see four new Salad Jar recipes on shelf this year as well as seven new recipe Veg Pots.
Bol has also shifted its kitchen to Lincolnshire and said 80% of all UK grown ingredients will come from within 50 miles of the new site.
Paul Brown, the founder of Bol Foods, said: "Back in February, we made the commitment that this summer Bol would become 100% plant-based – well, as of this week we've now ditched dairy in the final piece of our plant-powered jigsaw.
"We're on a mission to inspire the world to eat more plants, whether at home or on the go and our new range of delicious Veg Pots, Salad Jars and Super Soups are now more local, fresher and tastier than ever.
"We're not perfect, but I believe businesses can be a force for good in helping both people and the planet and this marks another step towards that for us."