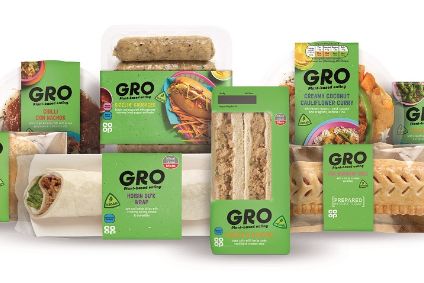 UK grocer The Co-op is the latest big name retailer to launch its own vegan food brand.
Called Gro, it will be launched in-store this month and will be available at up to 6,000 Co-op and independent stores.
The range features more than 35 meat-free products and takes Co-op's total food and wine vegan range to more than 1,000 products.
Co-op said Gro has been developed to "take inspiration from some of Britain's favourite dishes to create delicious plant-based alternatives, such as the classic chilli con carne and sticky toffee pudding".
The Gro range also includes a vegan steak bake, a Kashmiri pizza featuring cauliflower and a mozzarella-type vegan cheese.
The retailer said the range meets the growing demand for vegetarian and plant-based alternatives. Its research shows that in just 12 months vegetarian product sales have risen by more than 12% while non-dairy milk alternatives have seen a 14% uplift.
Jo Whitfield, CEO of Co-op Food, said: "Our new vegan range taps into the latest consumer trends."
The full range of Gro products will be available in 300 Co-op stores across the UK whilst selected lines will be stocked in 2,000 Co-op stores and by up to 4,000 independent retailers.