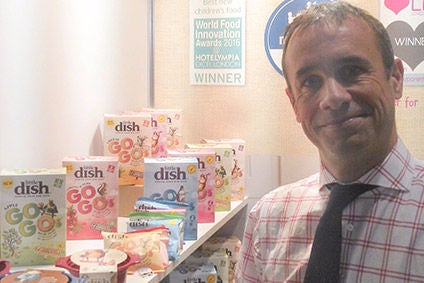 UK children's ready meals maker Little Dish is developing plans to launch its range of products in the US.
MD Dean Brown told just-food that a US debut for Little Dish meals could come as early as next year, but he stressed a Stateside launch would only go ahead once meticulous planning had been completed.
"We are developing our business in the US, which will be in the same packaging and with exactly the same brand philosophy, but there will be local recipes," Brown said. "It's probably not a good idea now to say what the recipes might be, simply because by the time we go to market the products may be different to ones we have in mind at the moment."
However, Brown said a recipe range has been developed and, having already secured an unnamed manufacturing partner, Little Dish is working on finding "the right launch retail partner".
"There are two steps for us now," Brown said. "One is finding the right manufacturing partner and that is about finding people who are aligned to your brand values in terms of the quality of the raw ingredients and the process, but actually more in our sense that they genuinely believe in the social side of what we are trying to do and believe in helping make a difference in children's nutrition."
For Little Dish, it is important to find a partner "who buys into the spirit of the mission of the company as much as it is dealing with the physical capabilities", Brown said. "With the right partner, you can design products that are localised and still meet the strict nutrition criteria that we set."
Little Dish is following its successful testing formula from the UK where a panel of 100 youngsters act as "tiny tasters" for the company's products. Everything that the company produces in the UK – and items that do not always make it to stores – are first passed to the panel for their comment and feedback.
Brown said it recruits new tiny tasters "every now and again through our social media platform" and the tiny tasters model will also be used in the US.
Little Dish is yet to use social media in the US but Brown, the husband of company founder Hillary, who is American, said friends and family in the US will help source tiny tasters. "Our manufacturing partner there also has hundreds of people in their facility and some have young children too."
Looking ahead to a possible US launch date, Brown said the timing "will be largely down to how persuasive we are with the retailers to find the right retail partner".
He continued: "I would hope it is a 2017 project but it is more important to get everything right first. It is not something to be entered into lightly because the graveyard of British brands who have tried and approached the US in the wrong way is too big."
Earlier this year, Little Dish announced the launch of its Little Dish Go Gos toddlers' snack range in the UK featuring mini whole grain oat biscuits made with fibre-rich flax, chia seeds and pea protein.
Last month Little Dish added three varieties of "nutritionally balanced fresh soups" to its range aimed at one to three-year-olds. The company said the soups – tomato, chicken and veg, plus carrot and butternut – "are made from 100% natural ingredients, each providing two of a child's recommended five-a-day, are low in salt and contain no added sugar, additives or preservatives".