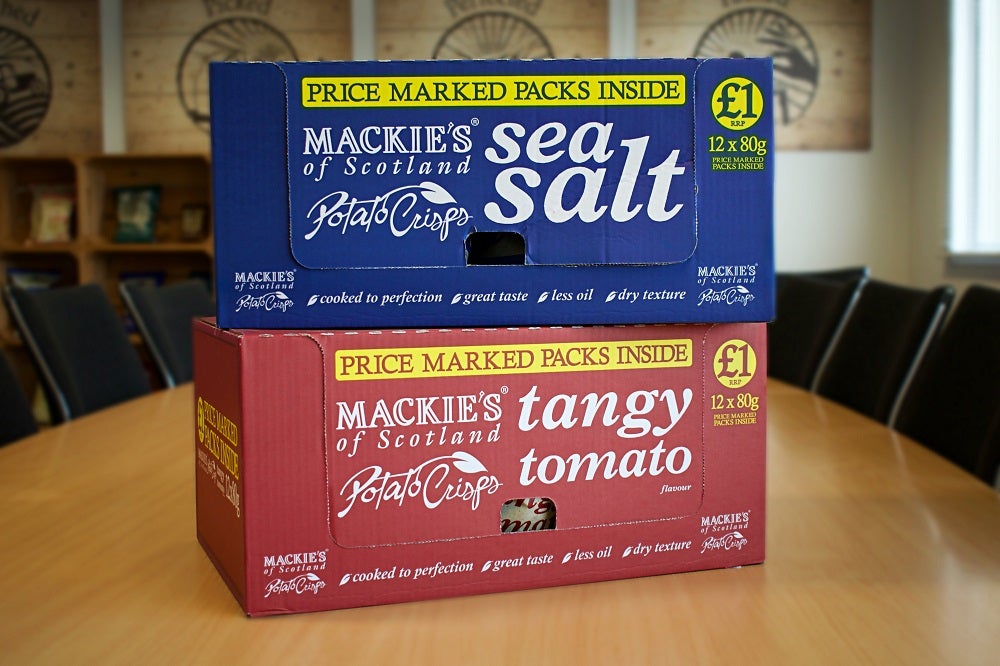 UK snacks business Mackie's Crisps is eyeing the US for its next overseas sales push.
The Scotland-based business already exports to Canada, where it has a distribution partner, but has not made meaningful inroads into the larger market to the south.
Managing director James Taylor told Just Food: "We do a bit there but not as much as in Canada. We don't have a presence on the ground in America in terms of distribution but we are in conversations there now about setting something up."
Mackie's Crisps manufactures crisps, popcorn and popped snacks, as well as a better-for-you range of products. It was established in 2009 as a joint venture between Perthshire-based Taypack Potatoes – Taylor's family business – and Scottish ice cream maker Mackie's.
As well as supplying major retailers in the UK, it ships its products to Asian markets including China, Hong Kong, Singapore, Thailand and Japan
In Japan, Mackie's Crisps supplies products directly to club retailer Costco. Mackie's is hoping to build on that relationship in other Asian markets where Costco is present, including Taiwan and South Korea.
Taylor said the business – which employs around 50 people – has not focused its main export efforts on mainland Europe, perhaps fortuitously given post-Brexit trading difficulties between the UK and the European Union.
"We do bits and pieces. We have distribution in Belgium and Scandinavia," Taylor said.
"It has become more complicated [post-Brexit]. You have to have all the paperwork in place and vet certification documents for products with meat in them.
"But the likes of Spain and France are big markets that we could definitely do more in."
Covid-19 has also had a dampening effect on export opportunities.
"Attending trade shows is a chance to open up new markets but those aren't happening right now. Without them it is hard to drive international growth," Taylor said.
He has noticed the increased competition in the company's domestic market – where Marks and Spencer has become the latest retailer to stock its crisps.
"It's not straightforward. There's only so much shelf space for premium crisps. You have to demonstrate enough of a point of difference," Taylor said.
But a pick-up in the foodservice channel as outlets open up following the Covid lockdown, a growing private-label offering and an increased focus on launching healthier products has seen Mackie's put on sales growth of around 20% year-on-year.
Sales grew from GBP7.3m (US$10.1m) in its previous fiscal year (to the end of June 2020) to GBP9m in 2021. Exports accounted for around GBP1m of that GBP9m figure.