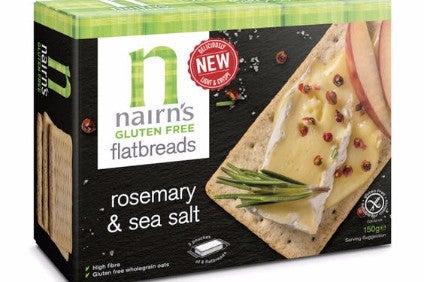 Scottish oatcake maker Nairn's has targeted the lunchtime eating category for the first time, with the launch of Gluten Free Flatbreads.
The Edinburgh-based firm – which has been making oatcakes since 1896 – suggests its first foray into the lunchtime market marks an "exciting development" for the brand.
Paddy Cronin, the company's sales director, said: "We're thrilled to enter into a new category and offer our gluten-free customers a tasty and healthy alternative to the current options. Much bigger than a cracker, but even more light and crispy, Nairn's Gluten Free Flatbreads are the perfect lunchtime option for consumers who want something a little more substantial.
"As lifestylers, choosing to follow a gluten-free diet, continue to boost the category, our gluten-free range continues to grow from strength to strength – we're adding to it all the time now that we have the capacity at our new state-of-the art gluten-free bakery which opened last November."
The new product is made from gluten-free, wholegrain oats and there are 55 calories in each flatbread. They are available in original and rosemary and sea salt varieties and have an RRP of GBP1.75 (US$2.31) for an 150g pack.